About Results.com
RESULTS.com was founded in 1996 as a consulting firm for mid-sized businesses. Their expertise is in the area of "Business Execution," where they help businesses create winning strategies, set goals, and drive higher performance. In 2010, RESULTS.com developed their Business Execution Software to help business owners track their strategic objectives and key metrics, assign accountability, and make sure people are accomplishing their tasks. The business owner can now see what everyone is working on, how people are performing, and where to focus attention so they can achieve their goals faster. RESULTS.com has evolved from a consulting firm that uses software to support the consulting, into a software company that uses consulting to support the software.
Before starting with the HubSpot software, RESULTS.com used four different applications which were not integrated. Their website, CRM, webinar platform, and SEO tools were all separate and couldn't interact with each other. An SEO expert had created fifty microsites for RESULTS.com, but they were not seeing any results. They wanted analytics software which would give them the thorough analysis they were looking for. "We own one of the most powerful domain URLs on the planet, but we realized there was much more we needed to do to fully leverage our marketing to drive and convert traffic from our target market customers to expand our business globally" (Sebastian Cadenas, Head of Marketing).
How could an all-in-one integrated solution transform their marketing?
After learning about inbound marketing through a webinar, RESULTS.com realized this could be the solution they were looking for. "Having an all-in-one inbound marketing software made our marketing department more effective. Our HubSpot consultant was very helpful in getting us started on the right track."
"We have completed all of our integrations with HubSpot. Now all of our web assets can be integrated with HubSpot. We can fully sync everything. Everything is easier" (Sebastian Cadenas).
Increasing the Traffic to Their Website and Getting New Leads
Using the HubSpot software, RESULTS.com can drive traffic to their website. Since November 2010, their website traffic has increased by 180%. The HubSpot software's SEO Tools replaced their need to hire the external SEO expert who wasn't producing the results they were looking for. They can now find and track their most effective keywords, track inbound links, and diagnose and fix poorly ranking website pages. Since December 2010, their visits due to organic search have increased by 133%.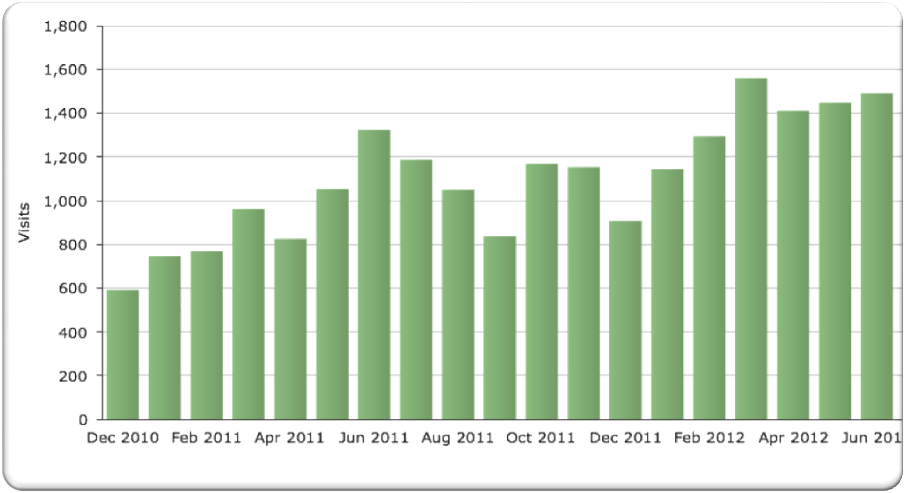 Another key step in developing an effective inbound marketing strategy was starting their blog in order to attract leads with valuable content. Through using the HubSpot software's Blogging Tool, they can easily create posts and get SEO tips along the way. They share the posts on all their social media channels with the social sharing icons. They can track the blog to see which posts are generating the most traffic, leads, and ultimately customers. "Blogging has been instantly successful for us. Right now we are blogging twice a week religiously. People are sharing our content" (Stephen Lynch). They currently have over 20,000 subscribers to their blog.
Using the HubSpot software's Lead Generation Tools, the website visitors can move towards becoming RESULTS.com customers. All the lead data they generate with HubSpot is integrated with their Salesforce.com account. The Salesforce.com integration makes marketing and sales alignment easy. In the past year, their leads have increased by 288%. Leads from referrals have increased by 200% in the past year.
Using Email to Nurture Leads
Using the HubSpot software's Lead Nurturing and Marketing Automation Tools allows RESULTS.com to warm up leads for their sales team with targeted content. Personalized messages can be sent to leads based on their behavior using the Workflows app. "Email marketing and lead nurturing helped us to build the relationships and trust we need in order to be recognized as experts in the business execution field" (Stephen Lynch).

"We were transitioning from a consulting business to software company. As we evolved into a software company, we learned from and modeled off of HubSpot and their all-in-one platform. We wanted to create an all-in-one platform for business execution software" (Stephen Lynch).
"We realized we needed to transform our web presence from a traditional business consulting firm to a software firm. We needed to dramatically improve our ability to engage with prospects to create leads and drive online sales. HubSpot did that for us" (Stephen Lynch).