Thunderbird Online Glendale, Arizona Non-Profit 200-500 Employees Higher Education
"HubSpot software enables Thunderbird Online to make quick adjustments when we see campaigns working or not working. This has given us access to easily track analytics and implement changes that have significant benefits on our lead numbers while also decreasing the time of our sales cycle." -Elyse Meyer, Client Director, Marketing - Thunderbird Online, Thunderbird School of Management
Leading Education Provider Had Difficulty Reaching Prospective Students
Thunderbird School of Management has more than 60 years of experience in developing leaders and they are regarded as the world's leading institution in the education of global managers.The school was founded as a nonprofit organization and graduated it's first class in 1947. Today the school has graduated more than 38,000 students who live and work in more than 140 countries.Thunderbird Online is a professional development division of Thunderbird School of Global Management. They provide online courses and executive certificates to busy professionals seeking to continue learning throughout their professional career. The Thunderbird Online team had a variety of goals for their marketing, including gaining more leads a month than they were seeing. However, they were facing many challenges as they were trying to recruit new students into their wide variety of programs.
Needed to Drive Traffic to Their Website
Before coming to HubSpot, one of the primary concerns of Thunderbird Online, was driving traffic to their website. They did a significant website design and launch for online.thunderbird.edu, but were unsure of where to begin in the SEO process of the new site. Their main source of traffic came from thunderbird.edu and CPL providers. With no defined system set up where they could track or analyze potential keywords, they couldn't be flexible in their tactics because they had no way to tell which were working and which ones were not. Thunderbird Online needed a solution that could help them optimize their site more effectively and make maintaining it easier.
Needed a System for Blogging
In addition, their new website had no system set up for blogging and they needed to find an out of the box solution for blogging needs. Thunderbird Online's team knew that blogging was a great way to bring in new prospects to their site. They wanted a place where they could not only post press releases and announcements, but also share thought leadership.
Difficulty Capturing Lead Information on Most Important Pages on the Website
Their final issue dealt with their difficulty to capture lead information on their highest performing pages of the website. Thunderbird Online only had the opportunity to set up one landing page with a custom URL in order to capture lead information, but were unable to modify the content based on the lead source, campaign, or specific program. They were noticing a lower conversion rate, and thought that trying a variety of landing pages would help them in this effort. However, if they wanted to create a landing page for a specific program, campaign, or to capture specific students, they had to outsource it. This process would become increasingly more costly for them.
HOW DID HUBSPOT HELP?
By adding the HubSpot software to their marketing plan, Thunderbird Online was given the tools to address their issues, but more importantly it has given them the ability to manage their marketing through one system.
"We have the ability to manage most of our marketing initiatives through one system, and that gives us the tools we need to track conversion, lead information, create landing pages and blogs, and overall create a more effective marketing process."
Analyze and Modify Keywords
By taking advantage of HubSpot's Keyword Grader tool Thunderbird Online was able to analyze and modify their keywords on a monthly basis. In addition, by using the Competitor Tracking tool, not only were they able to track their competitors keywords, but they could see how effective they were as well. Using this new information, and their same marketing budget, they were able to better optimize their website and increased their organic traffic by 252%.
Easily Share Content
Using the HubSpot software Blogging tools Thunderbird Online was able to set up a blog for the first time on their website. The staff is able to consistently create content that they can easily share with their subscribers and social media followers every week. Since the blogging tool is pre-configured for SEO, they were able to optimize each of the posts so their content could be found by search engines.
Create Multiple Landing Pages
By utilizing HubSpot's Landing Page and Lead Intelligence tools,Thunderbird is able to create as many landing pages as they need without the added cost of a developer. They can easily create landing pages for specific e-mail campaigns, lead sources, partners, events, etc. Currently,they have 45 pages with an average 22.3% conversion rate.By creating this custom experience, their leads are landing on a page that is specific to what they are requesting information. This has allowed Thunderbird Online to gain intelligence on their leads from the time they enter the sales funnel. Today, Thunderbird Online has increased their leads by 442% including gaining 187 leads last month through Organic search alone. Most importantly the information they gained helped them decrease their conversion cycle from 5.5 months to 2.2 months.
Is your company facing similar marketing problems as those mentioned here? Go to HubSpot.com/Mydemo to get a custom demonstration of the tools HubSpot can provide your company today.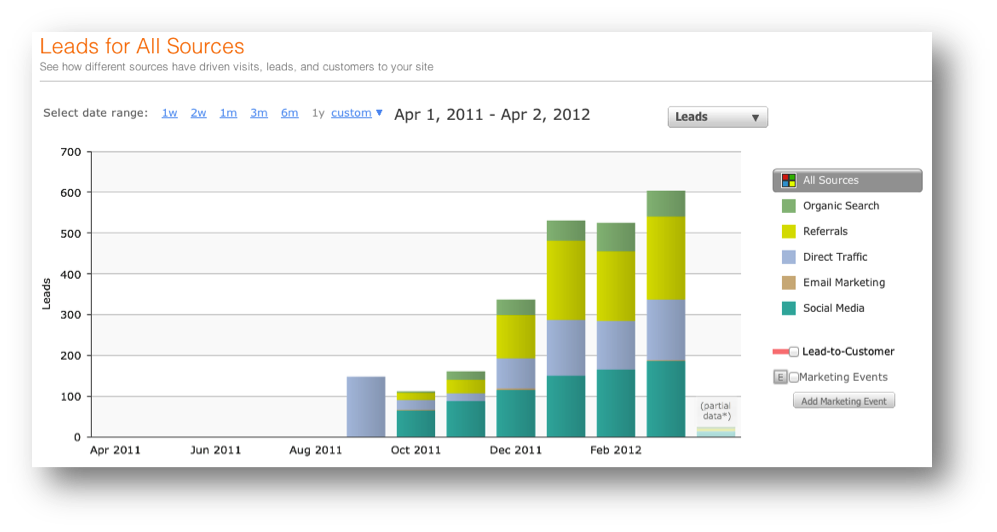 "Knowing that we could customize our landing pages for specific campaigns, clone them and modify as necessary, and track each individually, was our main factor in moving forward with HubSpot. From the time we spoke to our sales representative to the time we signed was only three days."