Tufts Medicare Preferred Watertown, Massachusetts B2C 201-1000 Employees Insurance
For more than 30 years, Tufts Medicare Preferred has been committed to providing a high standard of health care coverage and to improving the quality of care for every member they represent. They offer their customers a local health plan with a national reputation for excellence. In the 2011-12 national ranking of more than 400 health plans, Tufts Medicare Preferred's HMO plans were ranked among "America's Best Health Plans" by the National Committee for Quality Assurance.
The overall marketing goal for the Tufts Medicare Preferred is to increase enrollment for their Health Care plans. In order to do this they first need to drive more traffic to their website to increase leads. One of their main challenges however is something experienced widely within the insurance industry as a whole; their website is fragmented into many different, completely separate pieces. Tufts specifically has a doctor search tool, online enrollment, drug coverage information, all of which are externally hosted. Tufts Medicare wondered if there was a way for them to connect the dots between all these offerings in order to better understand how visitors are using their website so they can provide the best overall user experience, and in turn capture new leads.
Was there a way to track how all the pieces were connected?
Before Tufts Medicare Preferred started to use the HubSpot software to assist with their marketing, their main challenges stemmed from generating new leads from a very fragmented website. They needed a way to connect the dots and figure out how users on their website use each of the tools they provided and what they could do to improve their experience. They had no way to track how visitors were navigating their website, nor a great way to capture lead information on each page. As Baby Boomers begin to retire, that core demographic of 65+ individuals are driving more online traffic than ever before, and Tufts Medicare needed new data on how to reach them more effectively.They discovered HubSpot's end-to-end enterprise marketing software and originally bought because of the ability to quickly create landing pages. They soon realized however, it also provided them with the tools they needed to track visitors and get even more data than they ever thought possible.
HubSpot Provided Tufts with the Data They Needed to Drive Enrollment
HubSpot's Marketing Analytics dashboard has been invaluable for Tufts Medicare. Without it there would be no other way for them to understand how visitors are navigating their site. They are now able to track all their different properties from one location and see which ones are driving leads, which are driving enrollment, and how to make each page a better overall experience for the user. Today they can now connect the dots and track users to directly see what is driving purchase on their website. In the last year they have watched their direct traffic increase by 69%.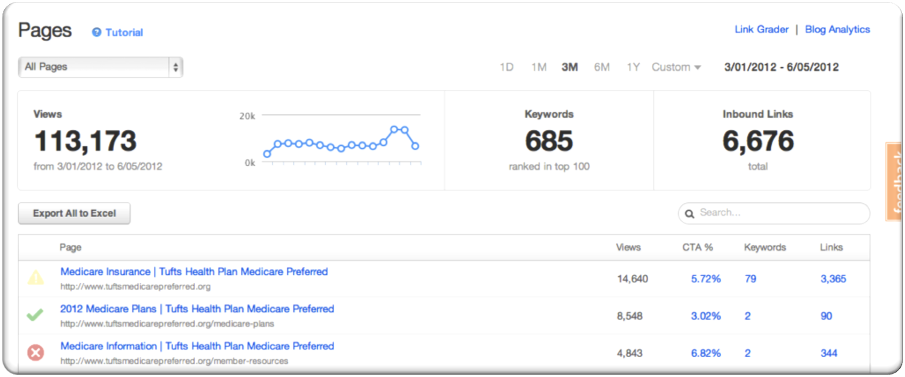 Landing Pages to Capture Lead Information
When Tufts first bought the HubSpot software, it was mainly because of HubSpot's Landing Page tool. With this tool they are able to create landing pages without a dedicated IT staff, saving themselves a lot valuable time. Within an industry where rates and government information can change at a moments notice, Tufts Medicare is able to keep their customers as up to date as possible with the right information. In addition, by attaching an API to all of their landing pages, all leads are uploaded automatically to their sales team. Today they are able to get sales kits out the same day a lead requests information. Because of their continued efforts with the HubSpot software, in the last 8 months they have increased their leads by 100%.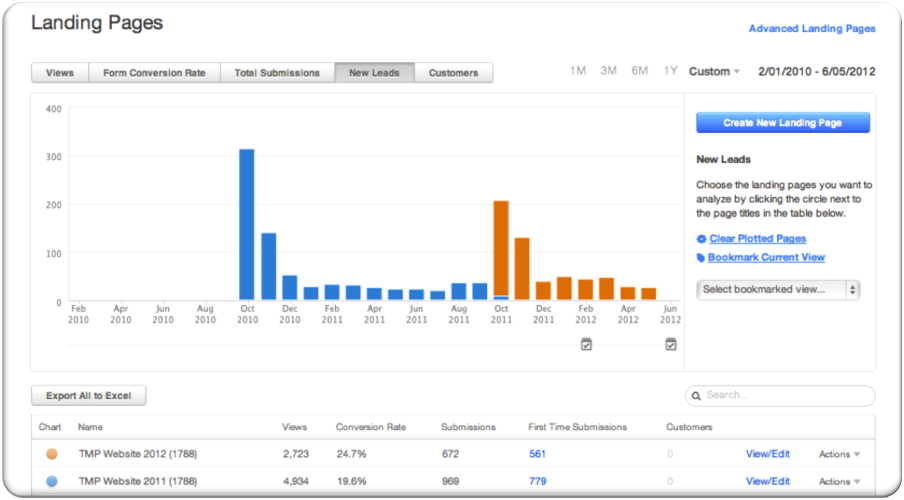 Lead Nurturing to Inform Potential Users
By using HubSpot's Lead Nurturing tools they are able to interact with potential customers even before they are eligible to be customers. They have been able to set up campaigns for the under 65 crowd that are just starting to think about Medicare, and want to learn more about what Medicare is. Tufts Medicare setup timed email campaigns that automatically send certain leads emails for up to a year after they first visited the website. Because of this they are able to keep in contact and provide information until they are ready to enroll.
Is your organization facing similar marketing problems as those mentioned here? Go to HubSpot.com/Mydemo to get a custom demonstration of the HubSpot all-in-one marketing software and discover how you too can nurture leads into customers.