About Cogentys
Cogentys is a learning and management solutions company. Since 1999, they have strived to simplify the user experience and save organizations both time and money through eLearning. Through implementing Learning Management Systems and custom courses, Cogentys helps clients to reduce non-compliance risk, automate administrative processes, streamline training, plan, assign, blend, and report learning activities.
The main goal of Cogentys' marketing is to generate brand recognition, customer outreach, leads and ultimately earn new customers. Because of their product offerings, Cogentys has found themselves in a saturated, niche market. In order to gain more interest and grow, they needed a way to differentiate themselves from their competitors and increase market visibility. The team at Cogentys wondered if there was a way they could overcome their challenges, increase their exposure and in turn, differentiate themselves from their competitors to grow their business?
Was there a solution to help build an online presence to help set them apart from their competition?
In the time before adding HubSpot to their marketing program, Cogentys was experiencing many challenges in the face of some pretty harsh competition. In an extremely saturated market they knew they needed to grow their online presence, but with everything they tried, nothing seemed to help. Due to poor site traffic and SEO, and the fact that their social media exposure was limited, Cogentys just was not generating enough leads. They had a blog, it was doing well and churning out great content, but it was separate from their website and had few inbound links. Because of this, very few blog visitors ever made it to their actual website. In addition, they had some landing pages with call-to-actions, but they were very general and provided very few opt ins for potential customers.After all this frustration, the Cogentys team made a decision to sign up for a free trial of the HubSpot Software. They immediately saw the value in the reporting data it provided, and it clearly identified weaknesses in their website. They soon realized that they needed the all-in-one solution that HubSpot provided.
HubSpot Made It Easy for Them Without Dedicating a Full-Time Marketing Staff
Once setup with HubSpot, Cogentys was able to go to work setting up a program to increase their website traffic. By using HubSpot's Keyword Grader tool, they were able to discover which keywords potential customers were using when searching for their product. With this new insight, they were able to improve their website and target the optimum keywords to generate more traffic. Because of this effort, their organic site visits have increased over 300% in just five months and they have eliminated all PPC ads, saving themselves a ton of money.
Landing Pages and Prospect Intelligence to Capture Leads
Once they had more traffic coming to their website, Cogentys needed a way to capture and track their new leads. By using HubSpot's Landing Page tool, they were able to optimize each of their landing pages and embed calls-to-actions to capture lead information. In addition, Cogentys used HubSpot's Prospect Intelligence tool to help them customize interactions with prospects by knowing exactly which pages they were looking at and their specific interests. Since they started using these tools Cogentys has increased their leads by 716%.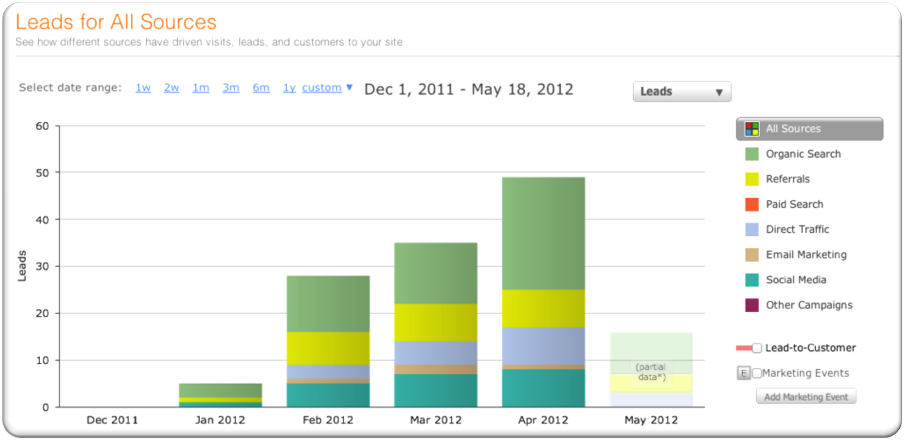 Email to Keep Leads in the Sales Funnel
HubSpot's Email tools have provided Cogentys with an easy way to target common lead interests and reengage prospects easily with customizable emails. With marketing automation, they are able to send out emails based on their leads' actual behavior on their website, not a predetermined marketing schedule. By being able to use more customized communication efforts, Cogentys had been able to reduce their sales cycle,since the leads finding them today tend to be ready or close to buying.