Reporting is the compass that guides your customer experience: reports help you pinpoint strengths and shine light on areas of friction for your customers. Your data should be as deep as your relationships with your customers. If you're limited to surface-level summary metrics, you're missing important details that might help you improve your customer experience. For this reason, we're introducing report drill downs.
In the past, your HubSpot charts provided summary data, but you couldn't dig a layer deeper. For example, you could build a chart that showed deals closed over time by sales rep. But to actually see those deals, you were forced to navigate to another tool, and build a separate filter altogether. What's the point of having so many tools under one roof, if you have to navigate separately to every app to see its dataset?
With today's change, you can now drill into reports for the first time. Click a lead gen bar chart to see the actual contacts, a deal funnel to see the actual deals, a ticket table to see the actual tickets, and so on.
Previously, reports were one layer deep. What you saw on the chart is what you got.
With the new drill downs, you can now navigate two layers deeper. Drill into a summary value on a chart with a single click. This turns a single datapoint on a chart into a list of the records behind that data point. Then, if you want to dig into an individual record, simply click it. The record will pop open in a new window.
The new functionality works with all dashboard reports, including cross-dataset reports from the report builder.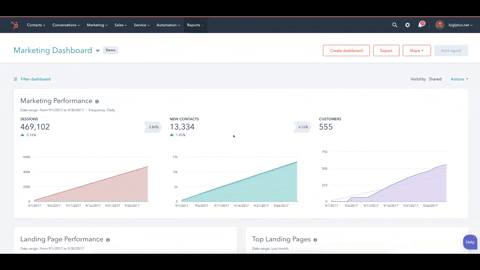 So how would you actually use this? Here are a few examples:
Let's say you're a content marketer looking to understand the traffic dynamics on your site. There's a report for that! The "Website Page Views" report shows your website's traffic, in aggregate. But what if you wanted to see the individual pages that are receiving the most traffic. With today's change, you can dig into each datapoint with one click.
Let's say you're a sales manager who's built a deal funnel for your team. It's the last week of the month, and you want to get a sense of the health of your team's funnel. There's a report for that! You can build a deal funnel report. But what if you want to see the actual deals in each stage? With today's change, you can dissect a deal report with one click.
Let's say you're a customer success team manager who wants to see what's causing the spike in ticket volume this month. There's a report for that! You can build a report that shows tickets by category --- x% of tickets were product bugs, y% were billing inquiries, and so on. With today's change, you can click into your report to see the underlying tickets.
This update to reports is now available to all HubSpot users.