Now live is the ability for you to get notified directly on the contact record when a Zoom cloud recording becomes available. In order to get this new feature, you will need to re-authenticate Zoom within your HubSpot portal.

With this feature update, all meeting participants will now be able to go to their contacts page, see all their recorded meetings, and browse everything in one place without ever having to leave HubSpot. You can also share recording links with others.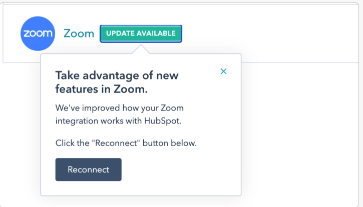 If you already have the HubSpot-built app for Zoom installed, go to your connected apps page. There, you will see the "Update Available" tag that will prompt you to re-authenticate the Zoom app.


In order to re-authenticate, a HubSpot Super Admin who is also the Zoom Admin will need to follow the given instructions. If you see that the update is available and you are not an Admin in your HubSpot portal, reach out to your HubSpot Admin to complete the re-authentication.

Note: You can use password protection provided by Zoom for their recordings.

Who gets it?
This update is now live and available to all Marketing and CMS Hub Starter, Professional, and Enterprise users and available in all languages supported by HubSpot.