Your contacts database is your home base for understanding the people interacting with your business. With the goal of making your contacts tools easier to use and more consistent with the rest of your HubSpot platform, we've been working for the last few months on fresh new designs for four screens: All Contacts, the contact record, Lists, and imports.
We're excited to announce that today, all HubSpot customers have been moved over to the new designs. Rest assured --- the major functionality you're used to hasn't been altered. The updates focus solely on look and feel.
Note: Some HubSpot customers have been using versions of the updated designs for the last few months. If you're one of those customers, the changes you see to All Contacts, the contact record, and Lists today will be more minor — you're already used to most of the new design.
All Contacts
Here's a look at your fresh new All Contacts screen: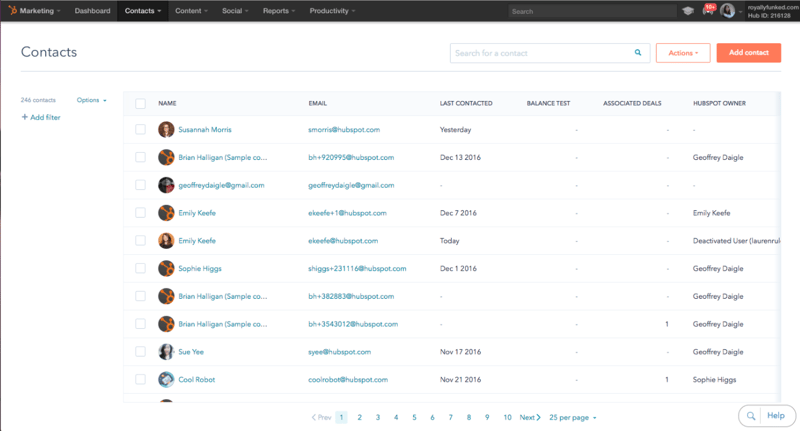 A few highlights to bring to your attention:
A fresh new look: The new design is more spacious and more modern. It's easier to look at and more joyful to use.

More consistent with the rest of your HubSpot portal. If you've been watching closely, you'll notice a trend: your entire HubSpot portal is getting a fresh new look, from your Marketing Dashboard to your CRM. This update to All Contacts (and the corresponding refresh of the contact record) bring the same consistent style to your contacts database.

Unified with HubSpot CRM. If you use HubSpot for both marketing and CRM, your All Contacts screens will now match, across both tools.

Drag & drop columns: Add the columns to your All Contacts page that are most important to your business and prioritize them in the way you see fit.
Contact Record
Here's quick glance at your new contact record:
Some of our favorite aspects of the new design:
A fresh new look. A more spacious, more human aesthetic.

Unified with HubSpot CRM: There will only be one contact record across all of HubSpot.

Faster Loading. You'll see a noticeable improvement in the loading times.

Easier access to the contact timeline. Your most important contact fields have shifted to the left-hand side, providing easier access to the contact timeline. No need to scroll in order to start exploring the contact's full interaction history with your company.

Sales engagements. Take calls, send one-off emails, leave notes, schedule meetings, and log activities from the timeline. You'll only see the sales communicator at the top of the contact record if your individual user permissions include sales access.



Deal and Company Information. Quickly see deal and company information in the sidebar of the contact record.



Minimize and reorder cards. Prioritize the information that's most important to you. For example, if the Salesforce syncing information is most pivotal to your team, slide that card to the top of your contact records.


Lists
Your Lists tool now looks like this:
Two notable improvements to your Lists interface:
Split-screen list editor with real-time preview. See how the contacts in your list change as you add filters. This makes your list-building process a whole lot quicker.



If you're working on a more complex list, you can expand the criteria editor to full-screen.





Easier organization. Select lists in bulk, in order to delete them or move them to folders.
Imports
As your business scales, your systems and processes can get more complex, and your data can get harder to manage. But that doesn't mean importing data between systems should be difficult. When you navigate to your import screen today, you'll be greeted by this updated interface:
Today's update makes importing into HubSpot clearer in five specific ways:
Unified with HubSpot CRM. If you use both HubSpot Marketing and HubSpot CRM, no matter which side you initiate your import from, you'll be taken through the same set of steps.

Simpler opt-out imports. Need to import an opt-out list? The process is now clearer and more concise.

Clearer Salesforce imports. Imports from Salesforce can be confusing --- aligning the right objects between the two platforms, choosing which data to import. Previously, this complexity was consolidated into a single dropdown during the Import process. Now, Salesforce imports have their own screen, complete with explanations, to make sure that you're getting the right data in the right place:

Mistake-free field mapping imports. Certain properties in HubSpot are calculated, and can't be written via import --- things like Social Clicks and Emails Opened. Now, you'll be prevented from mapping to these properties with your import, rather than seeing errors only after the import is completed.

More flexibility with HubSpot Owners and Personas. When importing into HubSpot Owner, you can now include either email address or first and last name in your import. With personas, you can use any of the names you've given to your personas within the tool.
One additional update to imports: You will now assign every import a Lifecycle Stage. Previously, selecting a Lifecycle Stage was not required, and all imports into HubSpot Marketing defaulted to Subscriber.
The refreshed Contacts tools are now live to all HubSpot Marketing customers.