What does this integration partner do?
Workplace by Facebook is a space for teams to share ideas, brainstorm and achieve more together. More than just a collaboration tool, Workplace connects organizations of every size to familiar features like chat and groups, as well as integrates with the business tools people use every day to get work done.
Sales reps are busy. With the HubSpot integration for Workplace, reps don't have to waste precious time switching between platforms. All of the information they need is delivered where they are, when they need it.

What does this integration enable?
With this integration, a sales rep receives notifications within Workplace triggered by team member or lead activities within HubSpot. Each notification contains a link that brings reps directly into HubSpot so they can immediately take action and close the deal.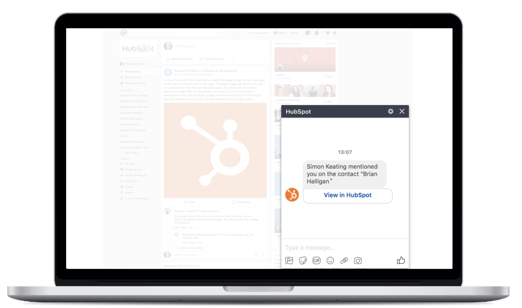 How might Marketing and Sales use this integration?
A major lead you've been following in HubSpot opened an email you sent her that morning and viewed the document you attached describing your pricing package. That would have been the perfect time to give her a call and seal the deal. But, because you were so focused planning a future sales push with your team in Workplace, you missed it -- and let the perfect opportunity for a natural connection slip away. With the HubSpot Workplace integration, you never have to miss the perfect moment again.

Who gets it:

The integration is free for HubSpot customers who also have Workplace
Pricing and signup information for Workplace can be

found here.
How-to integrate:
Support:
This integration is built and supported by HubSpot. Customers can reach out to them for support:
Date Available to Customers:
Now Live
Languages Support?
All languages supported by HubSpot
Integration page:


Workplace by Facebook