But first, a quick disclaimer. This is a long post with a lot of detail. We think it's important that you have the full context, so bear with us.
Today, during Partner Day at INBOUND, we previewed an exciting set of updates that will transform our successful Agency Partner Program into the future.
We've heard from you that the program hasn't adjusted to the new retainers you can offer using Sales and Service Hub in this new multi-hub world. That it's difficult to collaborate with other partners and HubSpot while receiving credit for the impact you have on your client's business. And the brand and the program's core principals no longer represent all of your capabilities or how you identify yourself.
With these goals in mind, we're launching the new HubSpot Solutions Partner Program in early 2020. It will represent the collective value we aim to create for our shared customers and be more inclusive of the skill sets and specialties represented in our partner ecosystem.
What can you expect?
As Katie Ng-Mak laid out in her Partner Day at INBOUND keynote, we will be making a steady stream of updates to the program over the next two years to deliver on three core tenets:
We want to create a model to help you grow with HubSpot
We want to make it easier for you to partner and do business with HubSpot
We want to create more opportunities for you to connect with customers (and other partners)
P.S. If you didn't catch Katie's keynote, here's the link to the recording.
Grow
There have been many conversations around the role of tiers and what it means for our future. In the multi-product and freemium world, our existing tiers have shortfalls. While tiers show depth in selling and servicing, it doesn't help identify in which products and subject matter a partner has expertise.
Going forward, we're philosophically starting the shift away from tiers being the end all be all. We're adding new credentials, we're changing the directory, and we're testing and experimenting with new ways that help match customers with partners. We want to make it easier for customers to find the right partner using other dimensions besides tiers.
While we make this shift, tiers will continue to play an important role in the program because they represent a partner's growth path with HubSpot. Heading into 2020, we plan to change the tier structure and recalibrate the targets so tiers represent meaningful differentiation with targets aligned to your growth path.
1. We're adding a provider level.
The provider level is like a partner starter package. For $50, you get access to on-demand training about the tools, servicing, selling and pricing. If you have a client you would like to refer to HubSpot, you'll work with a member of our sales team to bring that client on to HubSpot. As a solutions provider, you won't be certified to implement HubSpot for the client and your client will need to do onboarding either with HubSpot or a certified partner. It's a low-commitment partnership that will help some get started selling and servicing HubSpot.
2. We're adding a tier above diamond.
The elite tier is the next level of commitment and partnership for our diamond partners. Initially invite-only, elite is aimed at those partners that have consistently surpassed the baseline requirements for diamond and want deeper engagement and scale with HubSpot.
3. We're removing the silver tier.
With the addition of the provider and elite tiers, we plan to remove the silver tier. To continue to support new partners, we plan to make the gold tier more accessible by lowering the managed MRR requirement (more on that in the next section). And if that's not a good-fit, there's the option of becoming a solutions provider.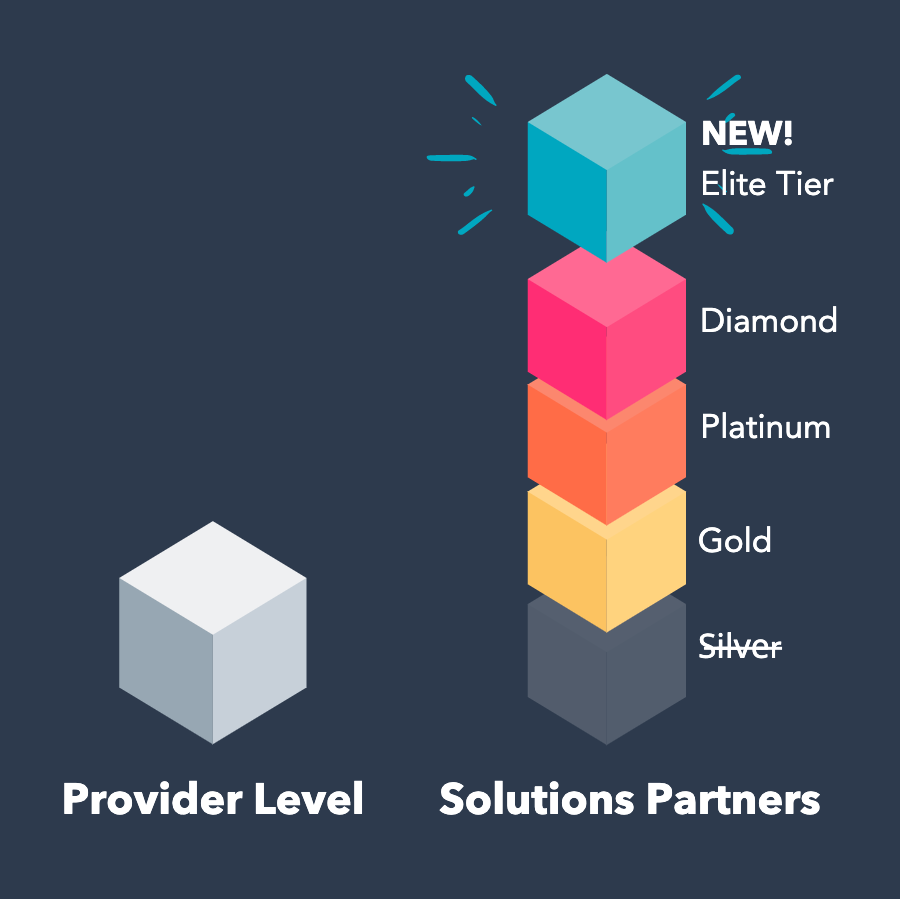 4. We're refreshing partner tier thresholds.
Starting in January 2020, we plan to raise the sold MRR requirements across gold, platinum and diamond tiers and lower the managed MRR requirements for gold and platinum. Our goal is to create greater differentiation among tiers given the changing ecosystem at HubSpot. Why make these changes? We haven't recalibrated the tier thresholds since adding sales and service hubs. You'll also soon be receiving commissions and tier credit for cross-selling products to existing customers. There are more opportunities than ever before to bring on new clients and deliver exceptional services to your existing clients. Here's what the changes will look like: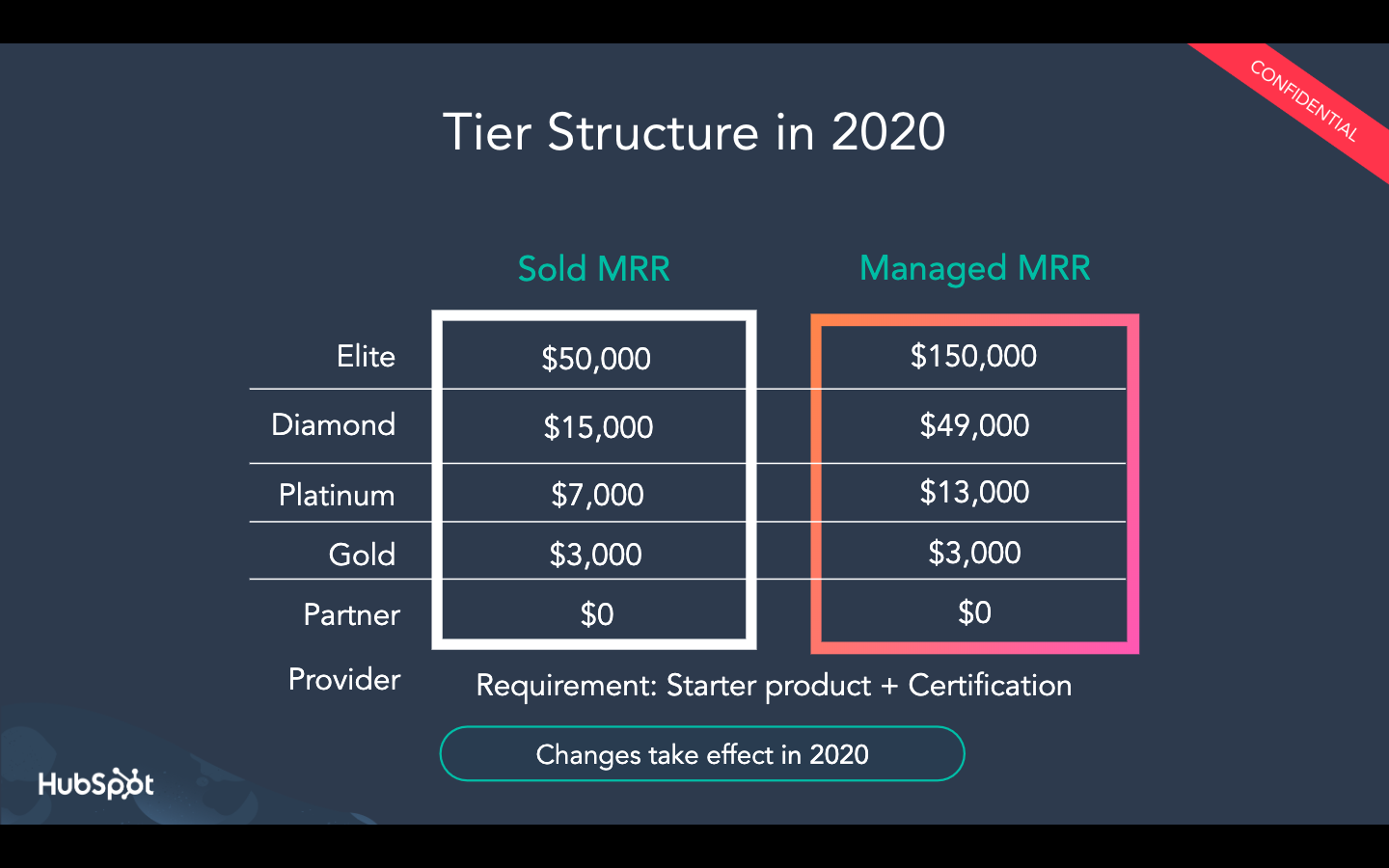 Partner
As HubSpot has shifted from an app to a suite to a platform, more and more of our customers are using multiple hubs to solve their business needs. To date, you might not have received commissions or tier credit for cross selling products to existing customers, depending on how the customer originated. This has been a real point of friction, caused by our internal systems (we won't bore you with the technical details).
We've been working hard to solve this and we're nearing the final stages of this project. Once fully rolled out, you'll receive credit and commissions when you sell new product lines to existing HubSpot customers. We hope this rewards your help in growing our shared customers.
We'll be piloting this new process with selected partners in Australia and New Zealand. Once we confirm all systems work, we'll proceed with a global roll out in phases, so stay tuned.
We're also updating the entry point requirements. We're no longer a single hub company with only digital marketing agencies in our ecosystem. Effective September 10, new partners can purchase any professional-level product or the CMS (plus agency onboarding) to join the program. And for existing partners, you will need to meet those same requirements to remain at the partnership (Solutions Partner Program) level by June 30, 2020.
Connect
Today, with 65,000 customers around the globe across and multiple product lines, our customers' needs are more diverse than ever before. The skillset of our partner ecosystem has also become more diverse.
How can we ensure that each customer finds the right partner for their needs? By giving you the opportunity to prove your expertise with specialized credentials.
Our vision is to expand our credentials ecosystem to more meaningfully represent your expertise in the subject matters and products that matter to our customers. Further, we intend to put these credentials at the heart of our agency directory, so that our customers can easily find the best partner for their needs. For example, some partners may choose to focus only on website design, while others focus on CRM migrations. These credentials will signal to the market your specialization and track record in that area of specialty.
The Advanced Implementation Certification is our first step toward this vision. This certification allows partners who specialize in highly complex CRM implementations, software integrations, and migrations to get credentialing from HubSpot for their expertise that is above and beyond our standard certifications. More details here.
Questions?
There are lots of moving parts, so we want to ensure you have the chance to ask your questions. In a few weeks, we'll be hosting webinars with our regional leaders to cover this announcement in French, Spanish, German and Japanese. More details on these sessions coming soon.
In the meantime, if you need any assistance, please contact your Channel Account Manager or email us at partners@hubspot.com.