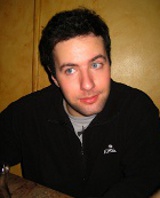 Michael Redbord has been working in online marketing since 2005. A graduate of Tufts University and then on the Client Services team at Compete, Michael has worked with a wide variety of different sizes and shapes of companies and helped shape their marketing plans, traffic acquisition methods, and competitive online strategies.
At Compete, Michael's primary focus was in the online travel industry, working with airlines, hoteliers, cruise lines, and online travel agencies. After hearing about HubSpot from his friend and HubSpot Inbound Marketing Specialist Ryan Carrigg, Michael joined the team here soon afterwards. As a result of those experiences, he considers lead generation and user experience his specialties. His favorite meal ever was lamb belly, which he describes as Even better than pork belly.
In his spare time, Michael writes restaurant and user-generated review commentary, datamines in Unix, and reads philosophy.
Michael in social media
Twitter: @redbord
LinkedIn: Michael Redbord
HubSpot content
June, 2010 - Who Writes Amazon Reviews?
July, 2010 - How to Create a Successful Business Blog in Minutes
September, 2010 - 3 Key Factors For Improving Ecommerce Conversion Rates
November, 2010 - Small Merchant's Guide to Cyber Monday Success
December, 2010 - Must-Measure eCommerce Blogging Strategies
January, 2011 - 21 Awesome Ideas to Grow Your Email List
February, 2011 - Trends Impacting eCommerce Marketing in 2011
See all of Michael's blog posts on HubSpot's Blog
Ecommerce Marketing ebook - 32 page guide to inbound marketing for eCommerce businesses, in collaboration with Mike Ewing
Customer quotes about Michael
Mike walked us through the process step-by-step and helped us feel that we could handle the rest of the website building ourselves. (His patience with us was amazing.) It was a wonderful experience that was far less painful than we'd expected!
- Accent Reduction Institute
Michael was fantastic. Process was customized to meet my goals and needs. Very helpful.
- Mobile Billboard Franchise
Additional ideas that Mike R gave me and clear explanation of all the tools.
- 4th Element
Thank you for the detailed email and all of your knowledge over the first 90 days of our HubSpot life. You have been great to work with.
- Silver Oak Limo
Responses from my consultant have been great. Good experience.
- Retirement Living Group
My IMC Michael Redbord was very helpful and a great source of information.
- Amazing Mail