Ivy Lodge is an upscale bed and breakfast located in Newport, Rhode Island. Since the small boutique hotel concentrated its marketing efforts online with HubSpot, it has been steadily growing its website traffic, Google referrers and inbound links. "It is really nice to be able to see the success and I think that fuels our small team at the Ivy Lodge to really stay dedicated and stay on target," said Ivy Lodge's Drew McKenzie.
Challenge
When Ivy Lodge moved its reservations systemonline two years ago, it expected to see a flow of customers. "What we really found," Drew said, is that our website needed a lot of help." IvyLodge.com needed better optimization to attract more traffic and successfully capture it.
As the site wasn't performing well, Drew invested in Pay-Per-Click campaigns. Soon he realized that $600-700 a month for paid advertising didn't scale well. What he really wanted was his site to appear in organic search results where people actually click. "While ads do work, we wanted to be on the left-hand side," he said.
Solution
Ivy Lodge signed up for HubSpot Owner and switched to HubSpot's CMS. Drew describes the system as easy-to-use and efficient because it "gets to the core of what you need to do to have a website that is very functional and very SEO-friendly."
In the process of better optimizing his site, Drew uses HubSpot's keyword grader and blogging software. He also tracks the performance of his optimization strategies. "HubSpot is great in a sense that it combines all the analytics through the entire suite. We really do monitor that," he said.
Drew uses page grader for his link building campaign and to monitor the optimization of different pages. This practice, he believes, has ultimately led to his site's increase in referrers. "We want to make sure that the effort we are putting into link building is going to be a good one for us," he said.

Drew likes to use the landing page tool and its functionality to create forms. He has integrated 2-3 forums on the Ivy Lodge site, which enable the company to interact with customers and design customized stays.
Results
Ivy Lodge's monthly traffic has more than doubled in the last six months from 2,691 visitors in February to 5,837 in July. "We have seen a really nice steady progression month after month," Drew said.
Monthly Website Traffic, January - July 2009

While in the past Ivy Lodge used to buy keywords through PPC, now the brand is on top of organic search results. It appears on the first page of Google for competitive keyword phrases like bed breakfast Rhode Island.
Google Referrers, January - July 2009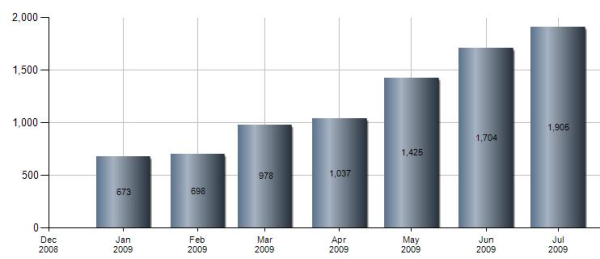 The hotel's Google referrers have more than tripled in the last six months from 698 in February to 1,905 in July. "All that money that we were paying in Pay-Per-Click, we were able to reinvest in other things," Drew said. In addition, the hotel built strong SEO authority by accumulating 2,005 inbound links from over 300 domains.
"I think HubSpot's methodology of inbound marketing is definitely key to any business, whether it is a bed and breakfast or a travel related business, or if it's any other category," Drew said. He believes that the Web has become an integral part of everyday consumer life. "You have to be there and you have to do it well when you are out there," he said.