Thermo Fisher Scientific Waltham, Massachusetts B2B 10,000+ Employees Research
and Technology
Thermo Fisher Scientific is a leader in the worldwide separations industry. Their products are designed to provide leading performance in sample preparation, separation, analysis, and reporting on the components of chemical mixtures and compounds. Their customers can be found within pharmaceutical and biotech companies, hospitals and clinical diagnostic labs, universities, research institutions and government agencies, as well as in environmental and process control industries. Their products and services help their customers solve complex analytical challenges, improve patient diagnostics and increase laboratory productivity.
Due to their complex product offering, the sales cycle at Thermo Fisher Scientific can be an extremely long process as customers educate themselves about each product.They discovered over time that many of their leads had already made up their mind whether to purchase by the time they converted into a lead on their website. The marketing team within the Chromatography division, which promotes solutions inion chromatography,liquid chromatography, andgas chromatography,was looking for a way to influence the sales cycle when the prospect was still in the research phase. To do this, this particular division at Thermo Fisher Scientific looked to build their organic search rankings and brand awareness through engaging in blogging and social media. They discovered multiple tools to manage it all, but wondered if there was an easier way they could manage and measure their efforts all in one place?
Is There One,

End-to-endSolution to Help You Manage All Your Online and Social Media Marketing Efforts?
Before deciding to focus more on social to build brand visibility, and before adding HubSpot Software to their marketing efforts, theChromatography marketing teamat Thermo Fisher Scientific faced a pretty big challenge. There was a common belief in their industry that scientists just were not on social media. But as it was discovered that more and more individuals within their industry were joining Facebook, LinkedIn, and reading blogs, a company-wide directive asked that the company be present on social media.
Having to start from scratch building their online presence, Thermo Fisher Scientific's Chromatographymarketing communications specialist Sonya Pelia went to work building a strategic plan and looking for tools to help them manage all their new assets. They started their blog with an open source solution, created profiles on Twitter and LinkedIn, and found a tool to help them with social media monitoring and publishing. It was clear that without a centralized solution to host the blog, manage, and monitor a growing list of social media channels could result in using a disparate set of fifteen un-integrated applications. When researching tactics to help them generate more content for their blog, they discovered HubSpot end-to-end enterprise marketing software and realized it was the solution they were looking for to bring everything under one platform.
HubSpot Enabled the Chromatography Division at Thermo FisherScientific to Build Their Online Presence and Measure Its Impact
The Chromatography Division atThermo FisherScientific knew from the beginning they wanted to make blogging the main hub from which all their other online tactics would stem. With the HubSpot software they were able to start right in by using HubSpot's Blogging tool. They were able to easily create optimized blog posts and then quickly share them through other channels like LinkedIn and Twitter to keep the conversation going. By using HubSpot's Keyword Grader tool in combination with their blogging, the Thermo Fisher Scientific Chromatographyteam is able to use the most searched keywords that their potential customers are using to find them within each post. This has helped increase their organic search by 182% in 7 months. In addition, by being able to track their blog analytics in HubSpot, they were able to measure the effectiveness of their blog in driving traffic and generating leads.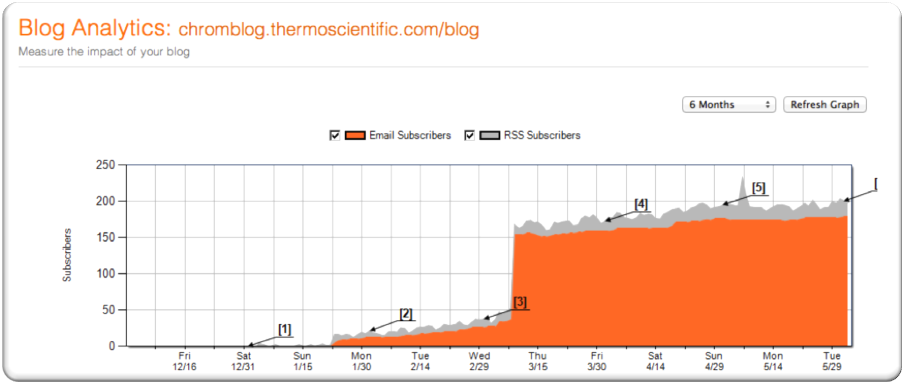 Social Media Tools to Save Time and Build Connections
Using HubSpot's Social Media Analytics, the Chromatography Division atThermo FisherScientific discovered that Twitter and LinkedIn were the top two channels their customers visited most, and decided to focus most of their efforts there. In HubSpot they are able to track mentions of their company, as well as their competitors and important keywords in their industry. To save time, they are able to schedule all of their tweets and posts in advance and then send them out all from one centralized location. In the past 8 months they have grown their Twitter following by 154% and their website gained 3,804 visits directly from LinkedIn.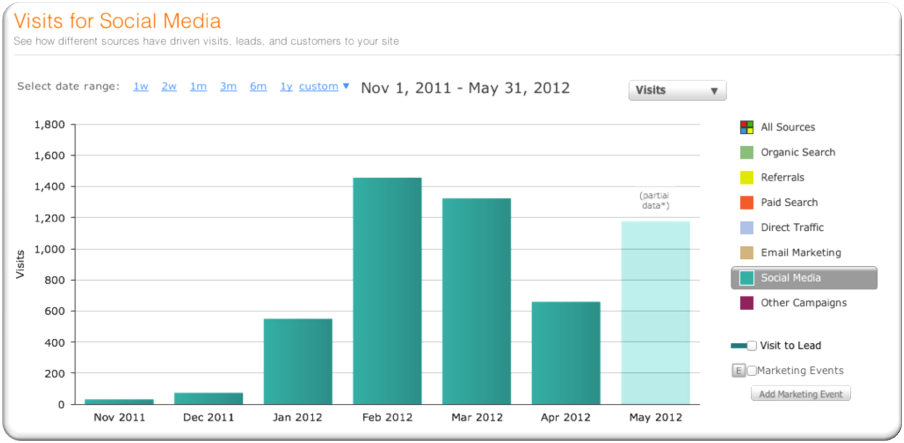 Email to Reach Key Individuals
By utilizing HubSpot's Email Manager, Sonya was able to start an external announcement program where she sends specific emails to lists of editors and publishers. Now they are able to tell which people in each list not only received the email, but which individuals opened the email, and which ones clicked on the content inside. With this information they have been able to better target their lists and send the most interested parties the right information.
Analytics to Measure it All
The final piece for Thermo FisherScientific's Chromatography divisionwas HubSpot's Marketing Analytics. Before adding the HubSpot Software to their marketing program they lacked visibility into what marketing channels and content were most effective at driving leads and traffic. They are now able to quickly tell which tactics and content work, and which ones don't and easily change. In HubSpot, they are able to measure all their online and social media programs, all in one place.
Is your organization facing similar marketing problems as those mentioned here? Go toHubSpot.com/Mydemoto get a custom demonstration of the HubSpot all-in-one marketing software and discover how you too can use blogging and social media to drive traffic to your website.