So, you decided you want to go into marketing. Only problem is, you don't know squat about marketing. Conversions. Bounce rates. Analytics. These words sound so scary and confusing when you don't have the right context or knowledge.
Attempting to start a career in a field you have little to no experience in can be quite daunting. Luckily for you and me, marketing is one of those fields that doesn't require a specific degree. This means that it's a lot easier to get started using your own resources (thank goodness for the internet) and you won't have to settle for some "marketing" job that's really just a sales job in a fancy costume.
So yes, anyone, anywhere, can start a career in marketing. And below, are four steps and resources to get you started on your career path:
Take online certifications
Update your resume
Apply to ANY marketing job you can find, even if it's unpaid
Build your portfolio and experience by marketing your own blog and/or business
1. Take online certifications.
Before getting started in marketing, you'll want to make sure you understand the basics. There are many different ways to go about learning these: books, blogs, YouTube videos, Ted talks, classes, workshops, and more. (The internet is truly a remarkable learning tool.) My personal favorite is online courses and certifications because they accomplish two things: you learn about marketing AND they look good on your CV or resume.
Of course, not all certifications are made equal. If you'd like to have the resume boost (especially if you don't have any relevant education), you'll want to look into certifications that are well-known in the industry. And you won't have to go out and spend hundreds of dollars on these either. Most of the more recognized certifications are offered for free!
Depending on what you're interested in learning, here are some of the top online certifications that employers will recognize and that will look good on your resume:
Best Free Online Marketing Certifications: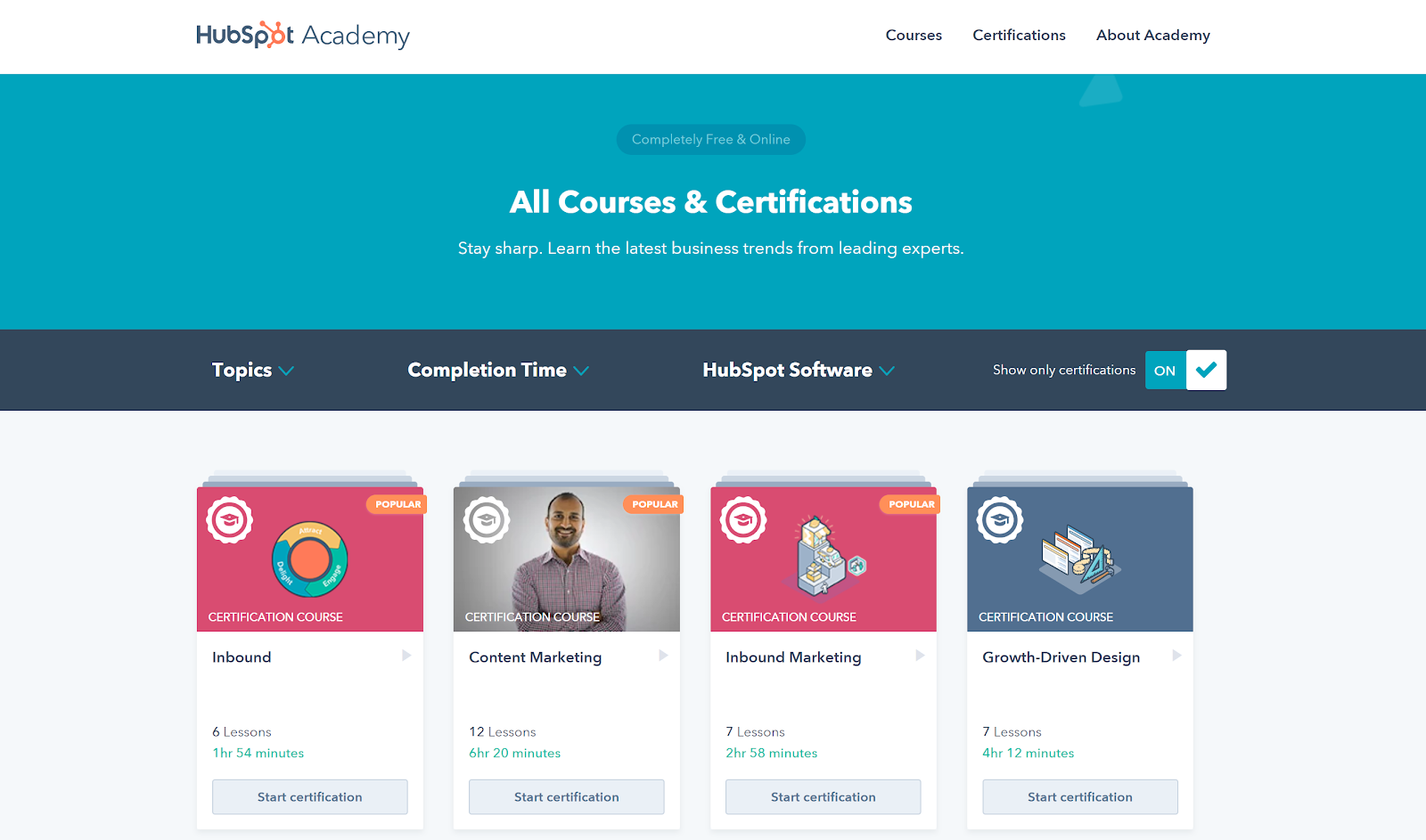 If you're not familiar with our company, HubSpot makes marketing, sales, and customer service software, but we're also widely known for our blog. If you google any type of marketing question, chances are HubSpot's blog will pop up 9/10 times on the first page. (SEO for the win!)
HubSpot Academy is HubSpot's online learning platform. You'll notice that we have a ton of free courses that cover a wide range of topics. If you're an absolute rookie and don't really know what marketing is outside of advertising, I'd recommend getting started with the Inbound certification. Content Marketing, Email Marketing, and Social Media are also some good options to get you started.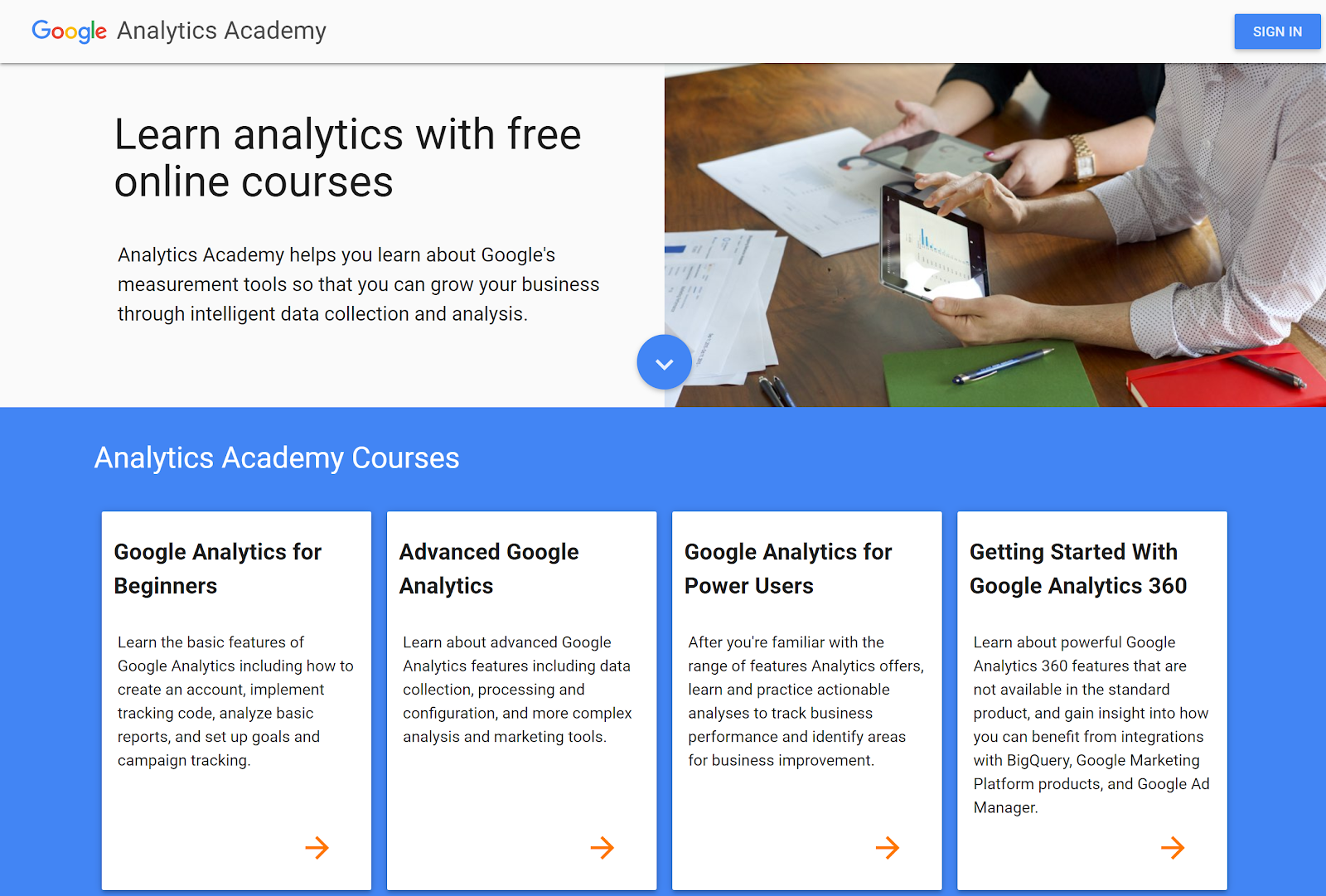 If your future employer has a website, they're likely using Google Analytics. Google Analytics helps you track and report on your website visitors, giving marketers everywhere crucial information on their campaigns. So, it might be a good idea to familiarize yourself with the platform.
Google is a big name brand and many businesses run on GSuite, so showing that you're familiar with the platform will most definitely be an asset.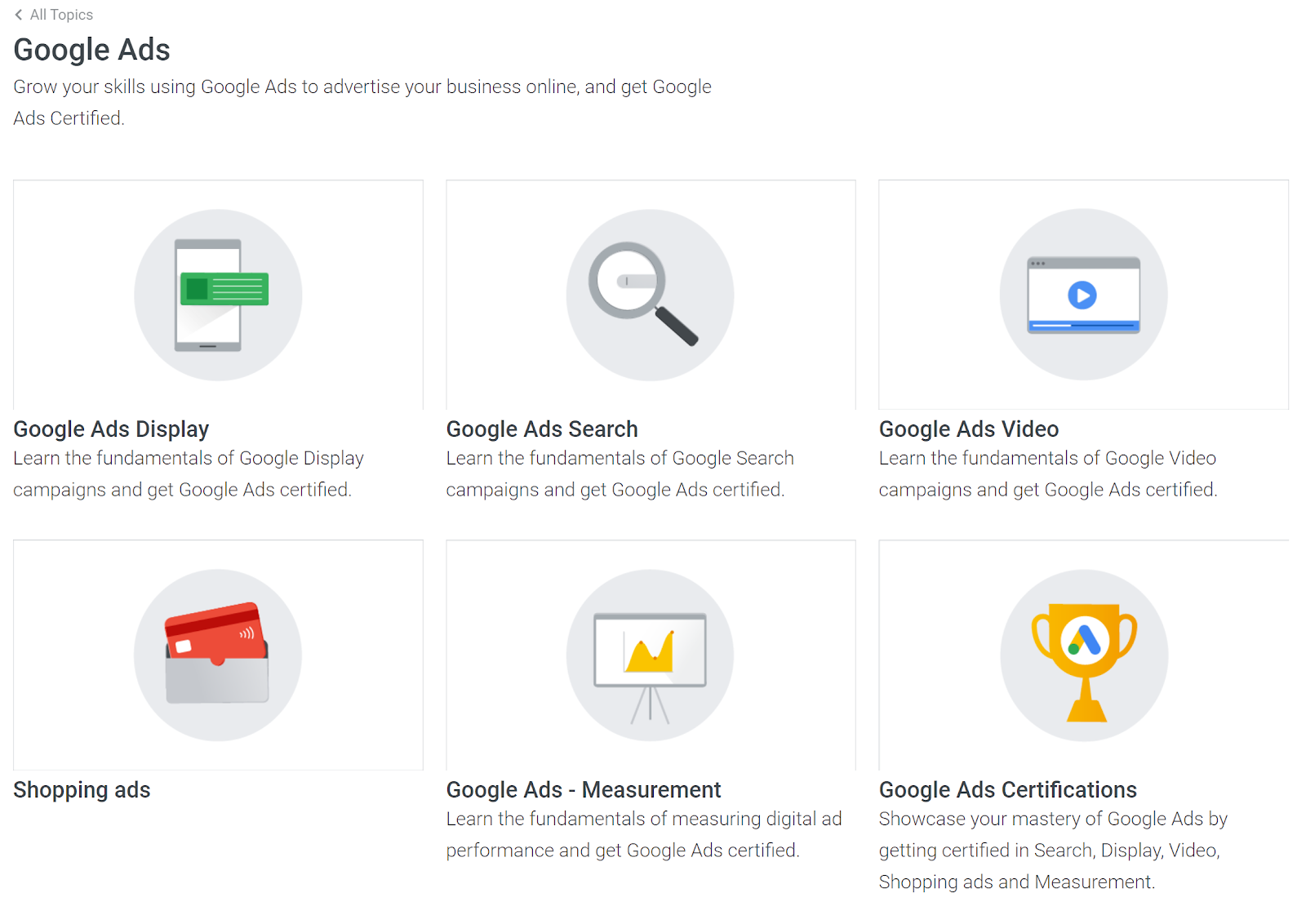 If you're interested in running online ads, then you should absolutely be Google Adwords certified. This certification covers search ads, video ads, and even shopping ads. You'll learn how to optimize your campaigns for the results you're looking for. Plus, depending on where you end up working, this might help your future company earn their Google Partner or Premier Google Partner badge.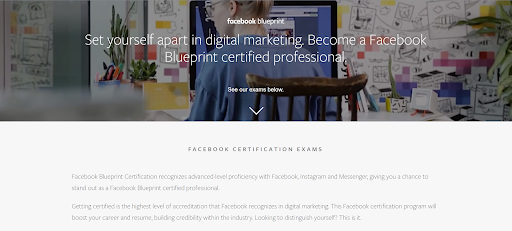 There is no denying that this social media giant is where most businesses can find a massive chunk of their target audience. Facebook is a big part of most companies' marketing strategies and knowing your way around it from a marketer's perspective can only benefit you.
Facebook's online courses cover a wide array of topics, from how to create a Facebook page to how to manage and run your own Facebook ads and optimize your target campaigns.
All of Facebook's courses are free, but there is a fee to pay to become a certified Facebook marketer. According to Facebook Blueprint's FAQ, one exam costs around $150 USD. And the certification is only valid for one year. I wouldn't recommend forking that kind of money for a piece of paper that's only going to last you one year, but I do believe simply taking the courses should provide you with enough value and relevant knowledge to bring up on your resume.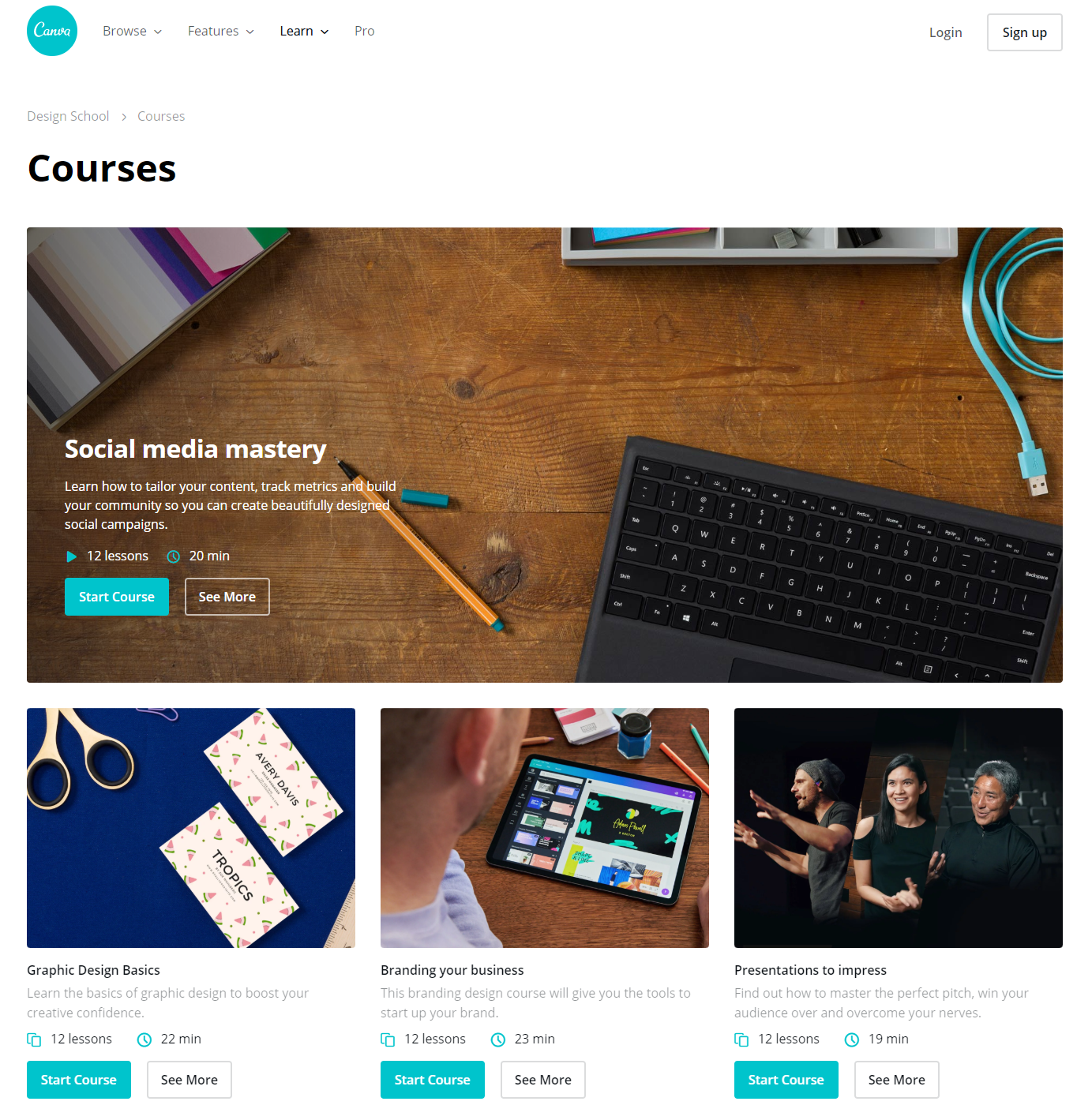 Canva is basically an online photoshop for people like me who don't really have any design skills. The platform has thousands of designs and templates to choose from that you can easily edit and customize to your liking. Whether you want to create a quick Instagram visual, a Facebook cover page, a blog banner, a Powerpoint presentation, or a giant poster, Canva will be your best friend.
While not a certification per se (there is no official certificate… yet at least), Canva Design School is a great resource if you're interested in doing some graphic design and branding. It's particularly handy for social media marketing. You'll learn the basics of design and branding, as well as some useful social media tricks.
Any of these should give you a good starting point and serve as a segue for you to go toward the branch of marketing that interests you the most.
Online certifications are great, but they can often feel a bit too generic as their purpose is to introduce you to a topic. If you'd like to dive in deeper in the minds of some of the greatest marketers, I'd recommend supplementing your learning with some books. A personal favorite of mind is Influence: The Psychology of Persuasion by Dr. Robert Cialdini.
2. Update your resume.
Now that you've got one or more certifications to show off your freshly acquired knowledge, it's time to show it on your resume.
First, let's talk about the look of your resume.
I don't know if you've had the same experience, but I grew up constantly being told that a resume needs to look "professional", which meant that it needed to be in a straight Word document format, with no colors or designs of any kind… aka no creativity. I subscribed to that principle for a long time, until a Talent Acquisition expert came to speak in my Business Communications class one day and completely changed my perspective.
Take a look at this image below. What stands out?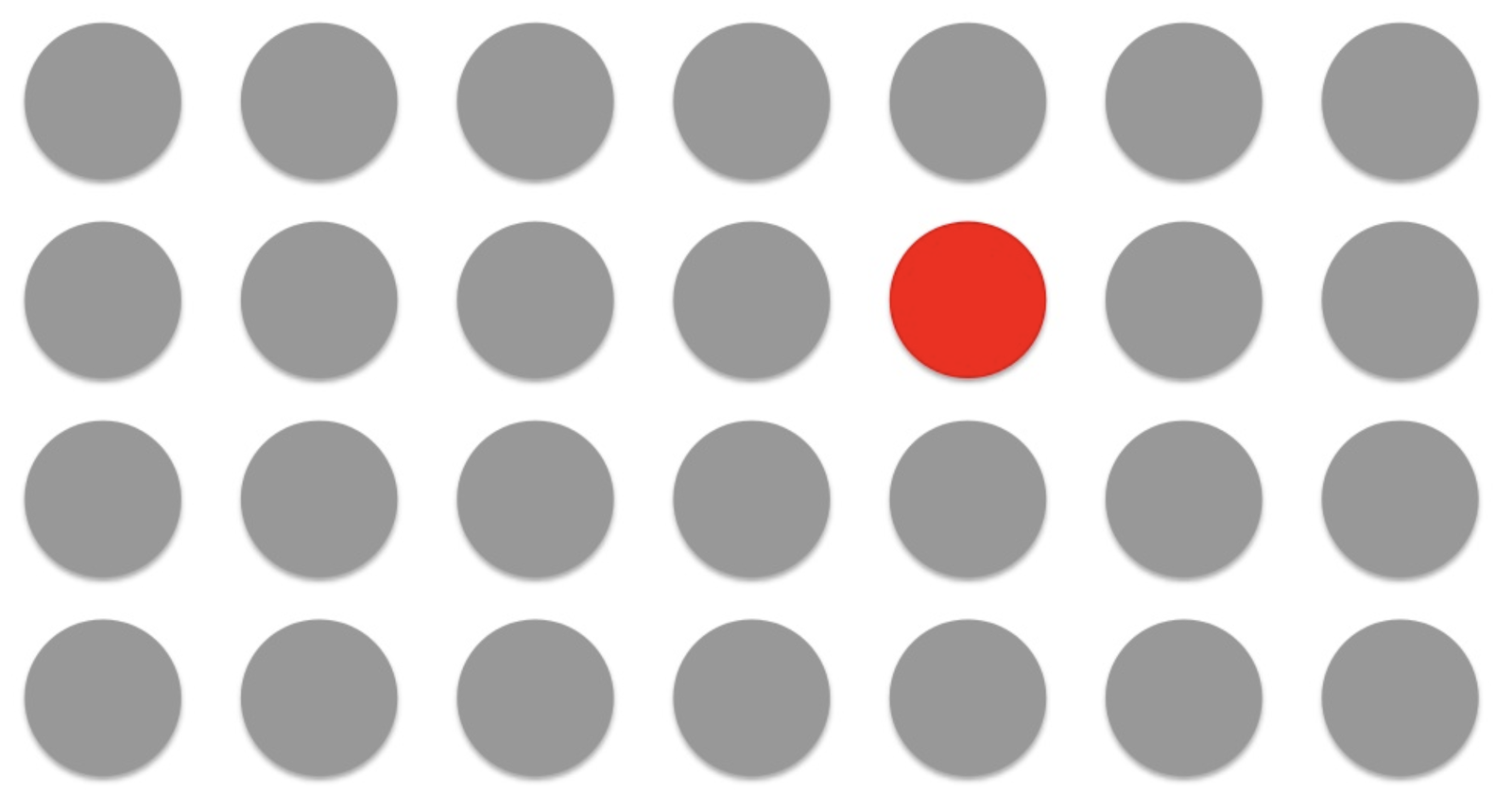 Chances are you didn't say a grey circle.
Put yourself in the shoes of a hiring manager and imagine you are flipping through a thousand-something applications. Would you prefer one that looks exactly the same as everything else? Or one that stands out among the masses? An attractive resume design is literally the A in AIDA, and any marketer worth their salt knows just how powerful this formula is. (Ps: if you don't know the AIDA marketing formula yet, now you know.)
The bottom line is, marketing is a creative field, and your resume should reflect that.
As soon as I understood this, I ditched my boring black and white CV and created a brand new one with Canva. Canva has many templates to choose from that you can personalize to reflect your personality. When I started applying to internships with this revamped resume, I received A LOT of compliments throughout my interviews. My first version wasn't even in color, but the design itself made it stand out from the pile. So that's a quick way of 1) drawing eyes to your resume first and 2) showing that you're creative and aren't afraid to be bold.
Then, you need to make sure your resume acts as your own personal ad. Do your best to highlight your strengths and accomplishments and position them as an asset to the companies reading your application. Include numbers and data, if you have any, to show that you can drive results. Avoid listing your tasks and responsibilities and focus instead on what you were able to achieve. Job hunting is really all about marketing yourself, so show your potential employers that you know how to do that!
3. Apply to ANY marketing job you can find, even if it's unpaid.
Steps 3 and 4 can work side by side.
Now that you have a better understanding of how marketing works and a resume to reflect that, start looking for entry level positions. This is best to start with if you're still in school or are a recent graduate as companies are more likely to hire someone with little to no experience when young. If you're older and revamping your career, you might want to start with step 4 and come back to this one later.
Go on LinkedIn, Indeed, Handshake —any job board really— and apply to all the jobs you can find (within reason, of course). It doesn't really matter what the job is at this point; all you're looking for here is to have at least one relevant job on your resume, even if it isn't your dream position.
If you're a student and can afford to do so, you might want to consider taking an unpaid internship to get you started. Unpaid work absolutely sucks, but the requirements should (usually) be much lower than a paid job and there isn't as much pressure to deliver since the company wouldn't really be losing anything by hiring you. You can take this opportunity to really build your CV and create connections while continuing to apply for paid positions.
If you're still in school, make sure to follow HubSpot's Careers page for when our annual summer marketing internship gets posted (usually in the winter). It is paid, and I promise you will learn more in three months than you did in three to four years of college. About to graduate? Take a look at our Leadership Rotational Program where you can try out four different teams in two years to see what area of marketing might be best for you.
If you aren't interested in unpaid positions or are struggling to secure a paid job, skip to Step 4 to build up your resume and come back to this step later.
4. Build your portfolio and experience by marketing your own blog and/or business.
Don't wait around for someone to give you a job so you can start building your skillset.
Starting your own blog or website is a great and easy way to give yourself marketing experience. You can write about whatever you want and then use the skills you've learned in those online courses to market your blog. Doing this will help you gain valuable experience in the following areas:
Content marketing
SEO
Ads (if you decide to run some to promote your blog)
Analytics
Email marketing
Social media
Etc.
If you're not so keen on writing, you can use the same approach for starting a YouTube channel or your own podcast. Any type of content will do. The goal here is to show that you're able to apply the skills you've learned in a real business context and obtain tangible results.
Another option, if you're not super into content creation, is to market your online store. If you're feeling up for it, you could start your own t-shirt business or sell some of your handmade crafts for example, and market that. While this requires a little bit more work and a lot more financial investment, it's still a great way of not only building additional skills in ecommerce marketing but also of making some extra cash, if successful. And if you're a student and would rather not get a job while in school, this is a great way of gaining some experience at your own pace.
I hope you found these tips helpful. I don't claim to be an expert (far from it), but these are just some of the things I did (or planned on doing) when I decided that I wanted to study marketing but didn't want to wait a year to take the prerequisites to change my major. If you're a student and still wondering whether to major in marketing or not, that's your choice to make. I did it and I don't regret it one bit.
One final piece of advice:
If you're looking to start university (or you recently enrolled), I highly recommend joining a co-op program if your school has one. Co-op programs are an educational structure that combines classes with real-world work experience. Being a co-op is a nice advantage when you're looking for internships. Co-ops are often subsidised by governments, meaning that the government pays part of your salary. This means cheap labor for companies, so a lot of them are looking to hire specifically co-op students, especially to fill positions in the Fall and Spring semesters when fewer students are available. That's something you can put in your LinkedIn header for some nice recruiter bait.
And if you want to stand out even more, don't be afraid to go beyond the traditional job application process and message people directly, whether that's on LinkedIn, Twitter, or via email. Personally reaching out to a recruiter or a hiring manager shows that you have just the right amount of hustle and will likely get you moved to the top of the list. Good luck!
Originally published Jan 13, 2020 8:00:00 AM, updated January 19 2023
Don't forget to share this post!