Integrating Databox and HubSpot to Provide More Meaningful Metrics to Clients Quickly
Databox CEO Pete Caputa built the Agency Partner Program at HubSpot before taking the helm at Databox, so he understood the challenges that reporting and analysis posed to agencies looking to accelerate their clients' growth. Instead of copy and pasting and reformatting data from different sources like SEMrush, Google Analytics, and HubSpot, teams using Databox can see combined reports in real time to make rapid decisions.
Databox simplified Revenue River's reporting, and integrating HubSpot data with data from other platforms they were using with the integration gave them the ability to show their clients the most important metrics on their inbound marketing efforts: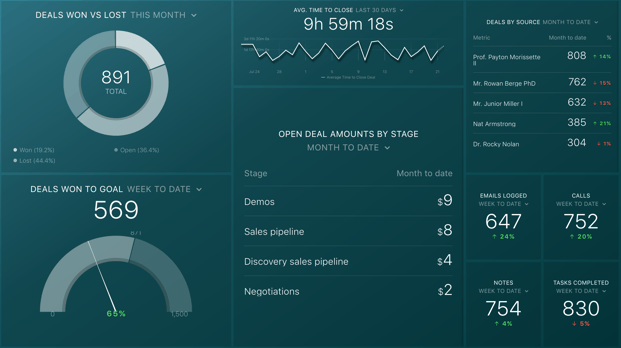 An example Databox + HubSpot dashboard (see the live template here)
Amanda Daume, Director of Sales Enablement at Revenue River, loves that her team is able to run custom calculations without extensive coding or development skills. She's able to see crucial metrics like cost per lead and cost of customer acquisition at any time without undertaking an hours-long reporting effort.
Additionally, Databox alerts allow her team to identify both green and red flags in their clients' HubSpot accounts - they can immediately see if a marketing tactic is doing well and congratulate their clients, or they can course-correct something that's gone wrong before the damage is done. In looking at Databox's default HubSpot metrics, Revenue River identified that different teams were tracking leads, qualified leads, and customers differently, causing a breakdown in marketing and sales alignment. Amanda describes the alerts as "a built-in safety net" for her inbound marketing efforts.
The Databox dashboard allows agencies like Revenue River to pull data up to two years old from a Smart List, presenting the insights in a sleek data visualization that they can analyze by time frame. With these data visualizations, Amanda and her team can configure their dashboards strategically to focus on the metrics that are really driving growth.
The team can look at stats like Deal Amount by Original Source to close the attribution loop and New Leads/Opportunities/Customers without Offline Source to better evaluate how much of an impact marketing is making on the bottom line. "Organization-wide visibility has helped ensure buy-in across teams and closed the gap in understanding how one department's efforts affect the others'," she says.