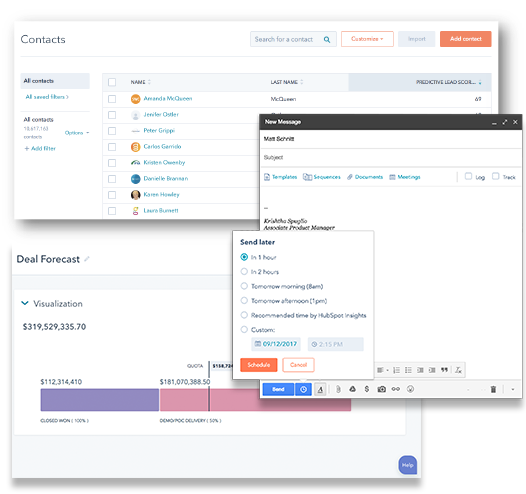 New Functionality Available
The All New HubSpot Sales Professional
The new version of HubSpot Sales Professional is the all-in-one sales toolkit to supercharge your sales engine.
Organize every detail about your prospects and customers, using robust automation and management tools sophisticated teams need.
Save your reps time and help them work smarter with productivity tools like meetings, templates, sequences, and a deep inbox integration.
Leverage the power of machine learning to surface the best leads to your sales team with predictive lead scoring.
Coming in 2018
Introducing Conversations In HubSpot CRM Free
Conversations is a shared inbox that helps you and your team have better one-to-one conversations with your customers.
Stores messages from your prospects and customers in a single, central place so you can view, manage, and reply with ease.
Seamlessly pulls in conversations from every messaging channel, and allows you to bring any member of your team into a thread.
Deeply connected to the rest of HubSpot CRM Free, giving you context on every contact so you always have the full picture.
Automation rules and bots help you manage conversations at scale, routing incoming messages and taking care of simple tasks.
Get a HubSpot CRM Free account today and you'll automatically get Conversations when it's live.
Get Notified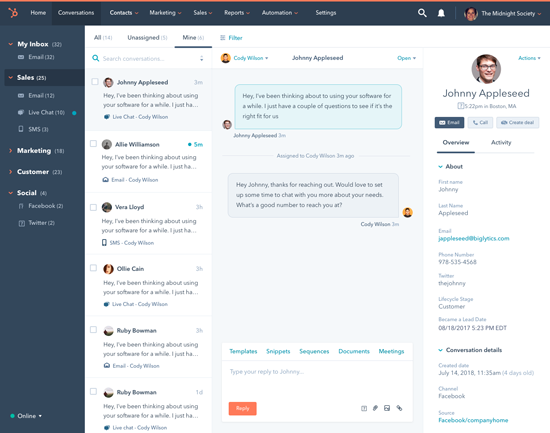 Coming in 2018
Introducing the Customer Hub
Succeed because your customers did. HubSpot's new Customer Hub enables the inbound way of doing customer service. You'll make customers happier, keep them longer, and grow your business faster.
The Customer Hub is built on top of Conversations. This makes it easy to escalate an everyday chat into a case that can be managed.
Truly understand your customers with feedback and insights tools, that you can deploy across Conversations, email, and more.
Go from frantically "solving tickets" to actually helping your customers – quickly and efficiently. Serve them even better with sophisticated knowledge center tools.