Sales email sent.
Phew, the hardest part is over ... right? Not yet.
So, what can you do if you know your recipients are opening your emails but aren't responding? And how do you earn their trust?
We've outlined a 3-step strategy explaining what to do after you send your initial sales email to effectively follow up and engage with your prospects. These steps include:
1. Measure engagement, call fast, and open with context.
If a prospect engages with your sales emails, opens them many times, or clicks on links and attachments, you can use that as a measure of interest. And, the more interested, the higher your probability of engaging with them.
You can track and measure email engagement with HubSpot Sales Software which also allows you to easily personalize email templates and reports, create an automatically-logged call queue, learn how prospects engage with content through document sending/ tracking, and follow up with highly targeted and timed emails with the help of email automation.
Once you determine a contact is engaging with your emails, you can reach out. Here's an example of something you could say to get the ball rolling:
Pro Tip: Call Fast and Open with Context
[Salesperson]: "Hey Josh, this is Tim over at X Company ... am I catching you at an alright time?"
[Prospect]: "Wow, Tim, I was actually just reviewing the email you sent over earlier. Great timing."
[Salesperson]: "Excellent, I will be brief. I noticed you were checking out some of the information around the link I sent on improving your sales team performance. Wanted to circle back and see if there was anything you had questions on, or if there was further information I could point you towards that would be helpful …"
Free Tool: HubSpot CRM
Take control of your sales process with HubSpot CRM, a flexible, intuitive solution for managing your prospects and sales pipeline.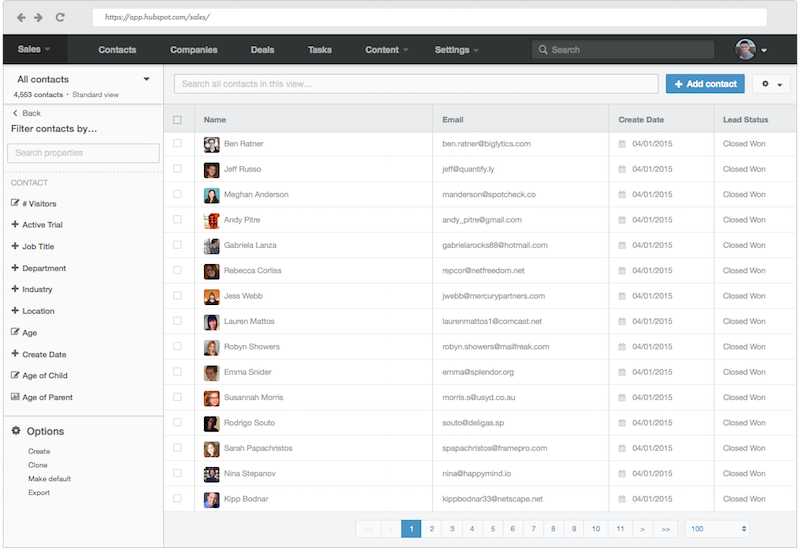 2. Track trigger events, follow up fast, and open with context.
Instead of manual follow-up, you can use trigger events to create relevant and personalized sales emails recipients are more likely to respond to.
Examples of trigger events include product launches, vacations, birthdays, exceeding Q4 earning expectations, or getting a Yorkshire Terrier puppy. You can use various tools, such as Google Alerts or LinkedIn, to keep track of trigger events.
You can have Google Alerts send you notifications whenever a specific prospect, company, product, or industry buzzword is mentioned on the web.
Use LinkedIn's "Mentioned in the News" feature or find a group relevant to your prospect — or their company or industry — and use relevant resources, material, or information to follow up.
3. Add value at regular intervals until the prospect is ready to talk business.
Sometimes you catch a prospect at a bad time, but this doesn't mean game over. In fact, it's a unique opportunity to demonstrate your value.
Here are five examples of how you can prove your value to prospects:
Share your prospects' company, products, or content on your social media accounts or other mediums.
Mention them in an article, blog, or offer to promote them.
Share helpful articles, advice, or books to help them solve an issue they may be encountering.
Introduce them to someone they might find valuable such as a thought leader in their industry or a potential candidate for one of their position openings.
Provide them with insightful feedback on their products and content.
Jignesh Shah, Head of Global Integrated Incentives at Blackhawk Network, says that you can also consider adding a reward to cut through the noise and encourage prospects to schedule a conversation with you.
He says, "Many of our customers have been able to increase the number of sales calls scheduled and decrease the number of no-shows just by offering a small digital reward, which ultimately leads to more close deals."