From Selling One Product to Marketing Two
In 2003 Skyhook began building one of the only first-party location networks in the world. Soon after, Skyhook's location technology was powering billions of location requests for mobile devices around the world. Ten years later, Skyhook rolled its massive amount of intellectual property and location data into a new product serving the mobile app and ad tech markets.
Targeting those new segments required a marketing program that could drive brand and product awareness, fill the top of the funnel with leads, and nurture and qualify them for Skyhook's sales team.
"With our new product came new opportunities," says Skyhook's VP of Marketing, Schneidermike. "It was evident that we needed to build a marketing machine that generates more visibility for our business and delivers inbound leads to our sales team."
A Feature-Rich Platform for More Effective Selling
It didn't take long for Schneidermike and his team to find the perfect fit for their marketing needs. After experimenting with and recognizing the limits of a conventional system, Skyhook turned to HubSpot to automate previously manual marketing and content development activities and kick the company's marketing into overdrive.
Today, the company uses the feature-rich CMS Hub to drive its lead generation and nurturing efforts. The innovative content marketing system gives the Skyhook team virtually limitless ways to design, refine, and deliver high-impact marketing content to existing and prospective customers.
Schneidermike says that Skyhook marketers fully embraced the myriad of capabilities HubSpot offers immediately. They have incorporated virtually every available app—particularly landing pages, social media, and SEO—into their daily routines.
"CMS Hub & Marketing Hub gave us every feature our marketing team needed right out of the box," Schneidermike says. "From day one we were able to quickly create new page templates for the site and landing pages on the fly, A/B test messaging and images, and report on the success of every campaign we ran across our company."
Skyhook's new product enables app developers and ad tech companies to deliver hyper-targeted content and experiences to users. Fittingly, Skyhook models its marketing program after the same ideals, promoting its products by delivering personalized, relevant content to its prospects.
The company is a big believer in building precise buyer personas because it's targeting a diverse set of app developers, each with his or her own interests and information needs. One of Eric's go-to resources is the Attribution Reports in the Analytics tool in Marketing Hub. Attribution Reports show the content and sources that website visitors interact with at any conversion throughout the funnel. That includes but is not limited to lead conversions, marketing qualified lead conversions, and customer conversions. This tool helps his team understand the entire conversion path of their customers and gives them a better understanding of what's pushing the needle driving leads or customers.
A shining example of Attribution Reports in action is how they informed the restructuring of Skyhook's website. Skyhook discovered that its most valuable Sales Qualified Leads often spent significant time on its About page and Products page. So in relaunching the site with HubSpot, Skyhook surfaced more of the company's background content on the home page, and expanded the site architecture to include individual pages for each product and feature. With the new site, Skyhook's marketing team can dig deeper into which product content is driving the most opportunities for its sales team.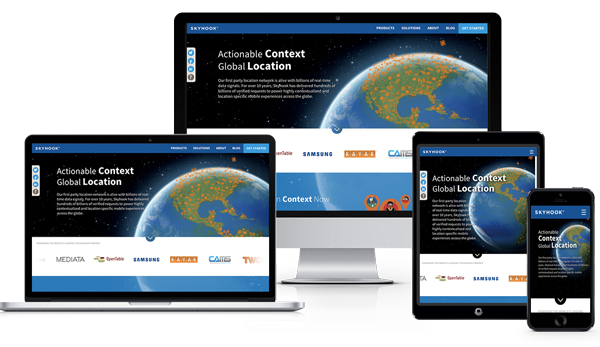 Combined with the smart content and smart CTAs features that automatically serve different content and calls-to-action based on a prospect's prior behaviors and lifecycle stages, the full funnel analytics play a pivotal role in helping the Skyhook team optimize blog posts, landing pages, and other web content.
Responsive Content Delivers Big Results
For Skyhook, HubSpot has delivered on all its promises, optimizing Skyhook's marketing activities into a lean, efficient marketing machine with staggering results. "Since adopting HubSpot, we've seen 2x more leads, 2.3X lift in sales inquiries and 2.5X more content downloads," Eric says. "We knew adopting an inbound marketing methodology would bring significant business results, but we were floored by HubSpot's ability to help us report on our success."
Schneidermike says the entire staff is excited about continuing to expand and enhance Skyhook's marketing with HubSpot, especially to keep on top of the rapidly changing industry landscape.
"Our customers are savvier and more discerning than ever before," Schneidermike says. "HubSpot's continuous innovation means we constantly have the most current features to keep our marketing program in line with the latest trends. It would be impossible to market a product like ours without a platform like HubSpot."