Challenges
In 2009, Memphis Invest's marketing strategy was virtually non-existent. There was no cohesive direction between online and offline marketing efforts. Was word of mouth actually working? Was the website getting traffic? How, when and why were people viewing the Memphis Invest homepage? There were a lot of questions and no clear answers as to what was an effective marketing effort. As sales began to stagnate, it was more important than ever for the company to invest in a marketing strategy. That's why co-owner Chris Clothier ended up starting the marketing department, and found his first partner in success: HubSpot.
How HubSpot helped
Chris followed step-by-step guidelines from HubSpot. He developed a clear and coherent strategy using the SEO tool to optimize his site with targeted keywords, following HubSpot's suggestions for blog post topics. Chris began publishing blog posts about the current state of the real estate market and other topics his target audience found valuable. He used landing pages for offers like free investor starter kits, and found his conversion rates reach up to 20% on those pages. Memphis Invest accumulated more than 4000 inbound links organically, simply by publishing great content. Before HubSpot, Memphis Invest was ranked as one of the top 4 million websites in the world. Today, it is ranked as one of the top 300,000 in the world, and one of the top 60,000 in the US alone. Their site ranks on pages 1 through 3 when searching for the highly competitive term "real estate investing." Chris says, "What we do with all the traffic is something we're always trying to improve upon. But we wouldn't have the traffic, visibility, and knowledge without HubSpot."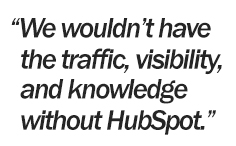 HubSpot helped to establish what Chris calls a "culture of excellence" within the company. Through valuable content and inbound practices, Memphis Invest has a trustworthy brand identity that the firm may have floundered without. The market for real estate investment is not only financially competitive, but 97% of Memphis Invest's clients live outside of a 100-mile radius of the firm. Because of this, it was absolutely imperative that their firm had a brand identity and reputation that is trustworthy. They now have a company culture that their clients deem worthy of investing in.
In two years, Memphis Invest has closed the gap between the sales and marketing processes, and then some. With HubSpot, they have successfully built an amazing reputation with impressive sales volume, a feat that's landed them among the INC. 5000 Fastest Growing Companies. In 2010, Memphis Invest closed 200 transactions; it was an all-time high for them. So when 2011 rolled around, Chris said, "Why not do 300?" And they did. No one in the industry was doing that kind of volume. Come 2012, Chris decided to raise the expectations. "Let's do 500," he said, and they're going to come very close.
With HubSpot by his side, Chris doesn't really see a reason to expect anything less than continual growth. "I give a lot of credit to HubSpot, I look at them as a partner. They simply gave us a clear strategy. HubSpot tells me, this is where you are, this is what you need to do--you need to write a blog post about this, here's an idea, create a call to action." Both Memphis Invest and HubSpot share a common goal of excellence, which is why this partnership has been so successful. Chris explains, "Every single month there's an accountability that says, why not grow every month?" That is exactly the attitude that has helped Memphis Invest increase their sales 260% in two years.
Results:

Search Ranking
Sales
Awards
What would you say to others considering HubSpot?
"Once we started using HubSpot, we started thinking outside of the box. HubSpot helped us to understand the difference between driving traffic and driving highly qualified prospects. If you are a business that is looking for this type of competitive edge in your industry, HubSpot is by far the best program we have found."
Share this infographic: