In a traditional lead generation conversion path, users are driven to a landing page where they fill out a form. For instance, they might have first interacted with your information via an ad or post on Facebook. Then, to input their information, they were required to leave Facebook altogether to go to the landing page on your website.
This method can be great for finding high-quality leads since you're attracting people that are willing to go through the effort of abandoning what they're doing to fill out a form to obtain your offer.
But, what if someone is only mildly interested in your offer? This may be the case if this is the first time they're hearing from or about you. They may not want to take the time to leave Facebook just to fill out your form.
Lead Ads allow users to stay on the platform while completing and submitting your lead form. Meaning, you can create a form that collects a lead's name, email address, or phone number (among other things) that they can complete exactly where they come across your ad — whether in the Facebook News Feed, Articles, Messenger, Stories, and more. Users aren't ever sent to an external landing page — meaning they are never redirected anywhere.
This is key to boosting conversions, offering a seamless user experience (UX), avoiding the friction of a longer click-through path for the lead, and leaving a positive impression on your leads — nobody wants to be redirected to a new page if they're already on your page for a specific reason.
How do Lead Ads work?
Lead Ads work similarly to any other paid ads. First, you set up an ad through Ads Manager. Here, you can customize targeting features, creative assets, and budget to make sure the ad reaches the right audience.
Meta then uses the information you entered to show your ads to people that could become your potential customers.
The ad is displayed in a user's news feed — it looks similar to an organic Facebook or Instagram post but is designated as a "sponsored post".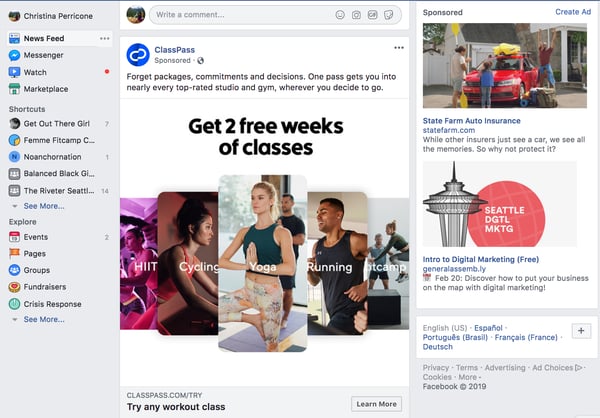 Lead Ads work through the promotion of a lead generation offer. For example, say your business wants to increase the number of signups to your product — your offer might be a discount coupon code.
Like any other offer, the user has to submit their personal information through a lead form to access the code, except with Lead Ads — this form lives within the Facebook and/or Instagram app.
When a user comes across your ad and clicks the CTA, Facebook will display a form that's auto-filled with their information, which is a great way to reduce friction when signing up, since they have fewer form fields to complete. Your Facebook ad will then deliver the code in app, or email, via a "Thank You" message depending on how you designate the lead flow. This is known as the Facebook Lead Form.
Now your new lead has your discount code, and you have a new potential customer to nurture and qualify.
Take the free Facebook Ads course taught by HubSpot experts.
Lead Form
A lead form collects a lead's information (email address, name, phone number, etc.) in exchange for something of value. Your visitors will be much more likely to fill out your form if you're offering something that will help them.
However, getting someone to fill out a form and click Submit isn't always an easy task — especially because of how simple it is for anyone to become distracted online. Lead Ads address this issue by collecting user information directly in the app via their native lead form. It looks something like this: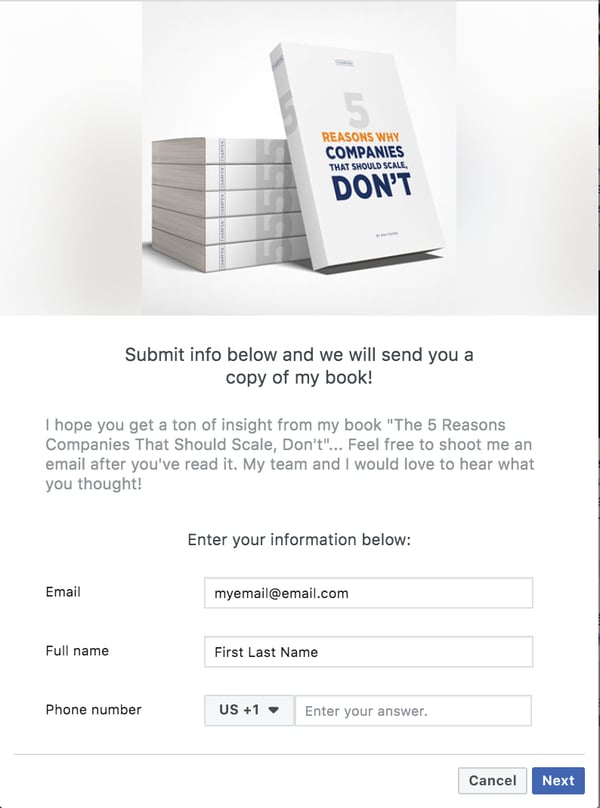 The lead form lives in the Facebook and Instagram app so users can enter their information without ever leaving the platform, increasing the chances of a conversion.
While your prospect stays in the app, their shared information can move seamlessly into your CRM database through an integration. This gives you the opportunity to nurture them through their decision stage (of the buyer's journey) into becoming a customer.
Integrate HubSpot CRM with Facebook Lead Ads to collect and nurture your leads in one place.
First things first, make sure that any form fields your company plans to use are in line with Facebook's Lead Ads policies. Once that's squared away, you're good to start building your paid campaign.
This will be the most simple step. Login to your Facebook account, navigate to your Ads Manager. Then, click Create.
2. Select your campaign objective.
Next, you'll see a screen asking for your ad campaign objective. Since we're creating a Lead Ad, select Lead generation, and the page will pull down with the next option.
Note: You'll see an option for Switch to Quick Creation in the upper right-hand corner. You can click this button if you don't need to be guided through the creation process — this option is for the advanced advertiser who is familiar with Facebook Lead Ads. Otherwise, stick with Guided Creation.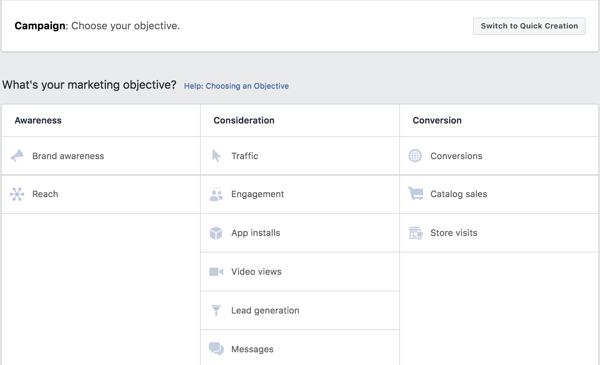 3. Name your ad campaign.
We recommend being as detailed as possible here and including the campaign objective in the name so you can compare your results to the original goal.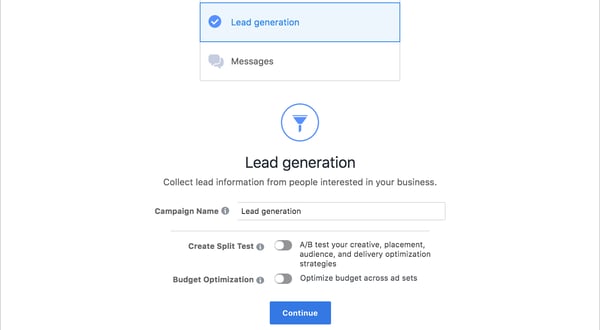 Next, you'll move into your ad set, where you add demographic details about your target audience and select the options that correspond to your persona.
4. Create an Ad Set.
Think of the ad set as the basket that is holding all of your ads for a specific persona. Your ad set name should reflect that, e.g. Shoemaker Sally - 25-34 - College Grad. Add as many descriptors as you need. Or, if you have a persona worksheet, you can simply give the ad set the name of your persona and reference the worksheet when needed.
5. Identify Your Facebook Business Page.
Use the drop-down to determine which Facebook business page the ad set falls under. Your company may have several business pages. If not, your page should already be selected.
6. Take advantage of the dynamic creative feature.
This option allows you to upload a variety of creative assets separately for Facebook to automatically generate the right combination of a headline, image, CTA, and other components to show to subsegments of your audience. Use this option if you're not creating a complete ad image that you want to split test yourself.
7. Filter your audience.
You can select all the characteristics and traits of your target person for this ad set, everything from age to interests. This is where Facebook's unique segmentation proves useful — you can select an audience based on their interests, behavior, or demographic information. You can also select to exclude people based on certain criteria so you don't waste precious ad spend. Finally, you can select connections based on how people have interacted with your business in the past.
How to Filter Your Audience
Here's what your audience filters will look like in the Ads Manager.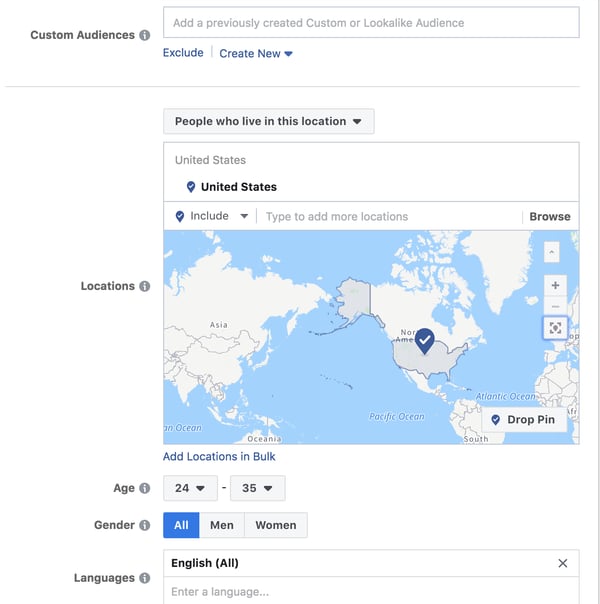 There are many different ways you could set up your audience targeting for a given ad campaign, and there are five filters, as mentioned, that you have at your disposal. Each of these filters is within the Audience section of your Ads Manager.
Let's dive into each of these.
Location
Use this setting to target users by a location where they live, have visited, or are traveling. You can also include locations outside of this area or exclude locations within it if they fall outside of your criteria. The point is to focus on areas where your potential customers are and exclude the rest to maximize your budget.
For example, let's say you own a retail store located in Connecticut and you're willing to ship merchandise to Rhode Island and Massachusetts. You shouldn't waste your ad spend on ads targeting people in California or even New Jersey for that matter.
So, you would select, "People who live in the United States" and select Connecticut, Rhode Island, and Massachusetts since those are the only people who would have access to your products. With that said, if you own an ecommerce store, you can widen your parameters to wherever you ship products.
Demographics
Think about your buyer persona(s) and the target audience for your campaign. Are most of your current customers women? Are you looking to expand the market for your products among college students? Use demographic data like age, gender, and language to hone in on your target persona's characteristics.
Here are some examples of the demographic data you can choose from to narrow your target audience:
Age
Gender
Language
Education
Income Level
Political affiliation
Work
Relationship status
This is why knowing your persona is so important — Facebook Lead Ads help you preserve your budget by marketing to users who fit your criteria, down to their favorite drink.
Interests
Interests will help you narrow your target to people who have expressed or shown interest in the thing that you are marketing. For instance, if you own a bike store, your target might have signed a pledge to decrease their carbon footprint … or they just might be in the market for a new bike.
Here are examples of specific interests you can target:
Work in a specific industry
Attended a ballet
Have children and/or a spouse
Practice yoga or weightlifting
Enjoy cooking
Play soccer
Behaviors
Behavior-driven ads are some of the most powerful to use for lead generation campaigns. Someone who has expressed interest in your industry, product, or service in some way is more qualified to become a lead (let alone a customer).
For instance, if someone recently read one of your blog posts or looked at a few products on your site, you can use behaviors to target your ads to them. You can also use this feature for more broad behaviors, like tablet users or people who have clicked any CTA in the app.
Here are some examples of behavioral targeting:
Read an article on your website
Abandoned your shopping cart
Uses a specific mobile device
Celebrated an anniversary recently
Commute to work
Engage with soccer content
Connections
The last primary category of targeting features is through Connections. This is for users who are connected to your business in some way. That might include people that follow your Facebook page, have used your app, or attended your events. Use this targeting feature to include or exclude people already interacting with your brand, depending on the goal of your campaign.
Below are a few ways you can use connections in targeting settings:
Friends of people who have used your app
People who have responded to your event
Users that like your page or their friends
Learn how to optimize your Facebook Ads to get more conversions.
Note: As you add in more targeting features, the "Audience Size" ticker on the right will show you the total size of the audience you're trying to reach. Facebook uses all of this information to choose who to send your ad to so you get the most return for your budget.

8. Choose your ad placement.
This is where you can determine where your ad will be placed, whether on desktop or mobile, in the feed or on the side column, etc. Facebook also allows you to select "Automatic placements" meaning, they will determine where to place your ad based on performance.
Your goal is to determine where your ad performs best, then place your ad there more consistently. You can achieve this in one of two ways: 1) set your ad to automatic placement for a set period of time and analyze the results, or 2) select the placement that best matches your target audience.
For instance, a younger audience might spend more of their time on mobile, while a certain age demographic might spend more time on desktop. This is why knowing your audience is so important — you're always making best guesses at first, before you test and optimize.
9. Set your budget and schedule.
This is where you can select the average you want to spend per day and how long you want your ad to run. Facebook Ads works on an auction system, so make sure to choose a budget that seems reasonable based on prior research.
Some campaign objectives let you select whether you'd like to bid for cost per click (CPC) or cost per thousand impressions (CPM), but the lead generation goal is set to CPM. No matter what you choose, make sure to check in on your ad periodically to ensure that it's performing according to your objectives.
After this, you'll move into creating your first ad. We'll cover how to navigate this section and some best practices.
10. Name your ad.
This is the internal name for your ad that will help you keep track as you build out different ads within your ad set. We suggest a hierarchical naming structure where you list the campaign type, audience, and a descriptor of the ad (e.g. "Lead Generation - Shoemaker Sally - Yellow Background").
11. Identify your social accounts.
This will be pre-selected based on your ad set, but if you're advertising on Instagram, then you'll need to include the account on which you want to advertise.
12. Select your format.
You have two options here: carousel or single image. A carousel allows for two or more scrollable images with a variation of headlines. This is a great option to display multiple product offerings or to pique interest by displaying steps or parts of an image split into a carousel. A single image is as it sounds, or you can use it to display a slideshow within a single frame.
13. Upload your media.
Upload your creative assets here. You can choose between a video (yes, gifs count) or an image. You're also allowed to upload up to six versions of your ad to be displayed. This is useful because you can determine which type of ad converts best — just be sure to make small changes to each variation so you can properly split test.
Learn how to make Facebook Video Ads.
14. Add copy.
Enter your headline, ad text, link description, and relevant URL here. Facebook will generate a preview of your ad to the right so you can see how it'll look in various placements.
15. Select your form fields.
Facebook Lead Ads is an effective platform because it allows for native conversions, meaning your users can convert in the app. In this section, you'll select the format, copy, and style of your form.
The form fields are completely customizable so you gather the information you need. This is also where you'll enter the link to your privacy policy page that you gathered in the beginning. Finally, you'll customize your Thank You screen and add your website link if your new lead wants to visit your site after converting.
After this step, you'll review your ad campaign and submit it for review. Once approved, your ad will start running and collecting leads.
By now you know how to set up your own Facebook Lead Ad and why it's beneficial for your company. But what does a good Facebook ad look like to a user and how are these ads set up?
Let's do an exercise. Pretend you're a Facebook user for a moment. Imagine scrolling through your newsfeed, looking through posts from friends, photos, and status updates.
Then you come across this sponsored post: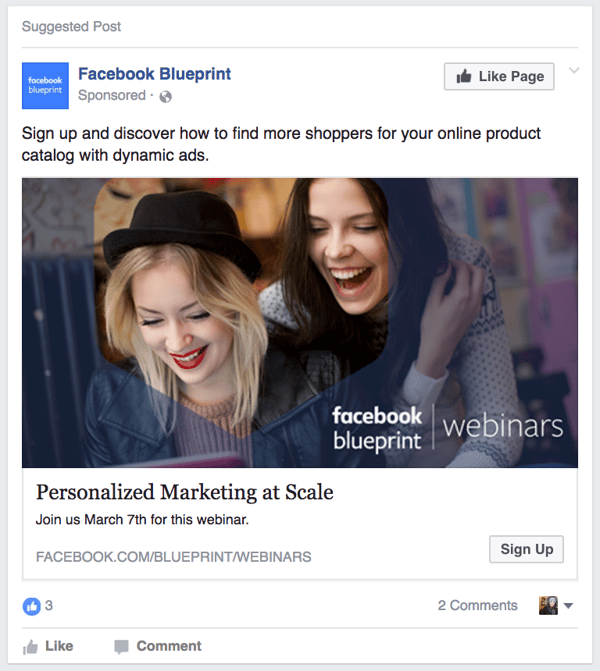 You're moved by this offer and decide that you want to sign up. You click the CTA and, instead of directing you to a completely different website, this pop-up form appears: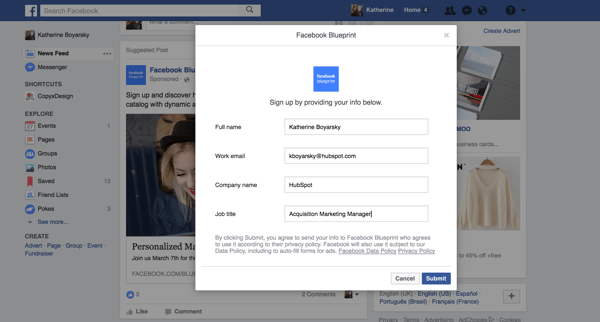 After pressing submit, a confirmation window appears and you're given the option to click out of the pop-up and head back to your newsfeed to resume scrolling.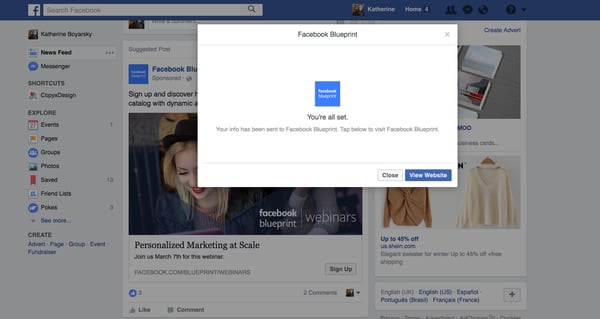 If you're looking for more information right away, the ad flow also gives you an option to View Website, which directs you to a landing page where you can get more information about the company.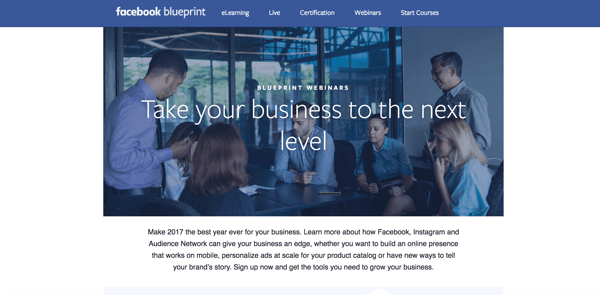 As you can see, the lead-flow UX from a Facebook Lead Ad is much more seamless than it would be if you were: interrupted while scrolling through the News Feed, sent to an external website where you were asked to submit a form, then had to navigate back to whatever it was that you were originally doing on the platform.
Here are four more examples of Facebook Lead Ads with great UX.
1. Merrimack College
Merrimack College has a Lead Ad in the News Feed.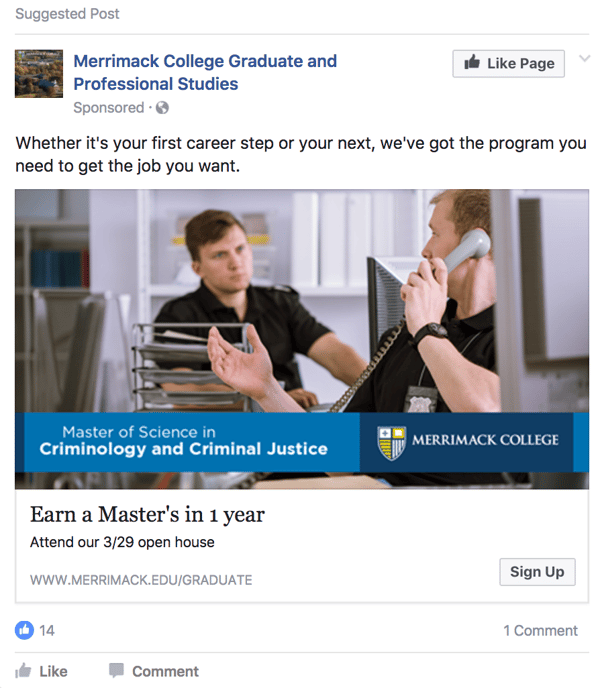 Users are able to review the graduate open house registration information upon clicking the ad.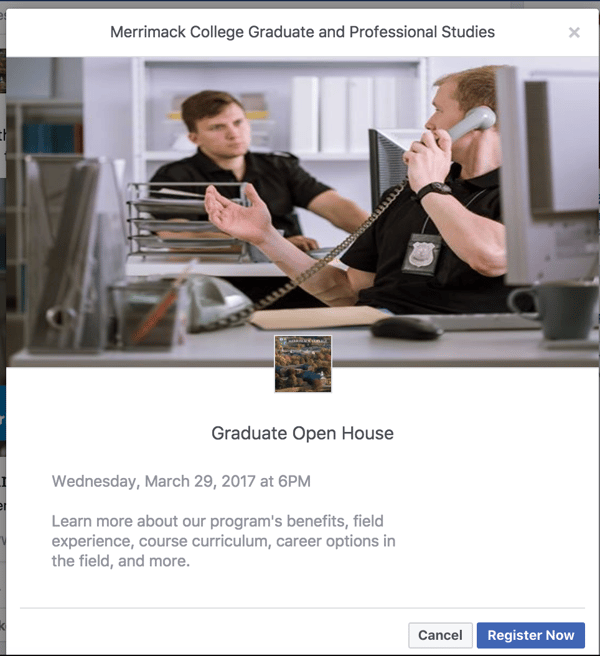 They then have the ability to sign up while staying in the News Feed.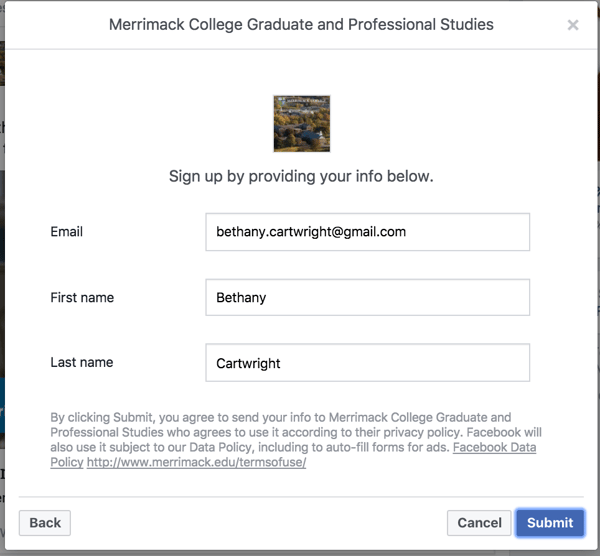 Upon submitting the form, they are brought to a "Thank you" page that they can exit out of to continue with whatever it was they were doing in the News Feed.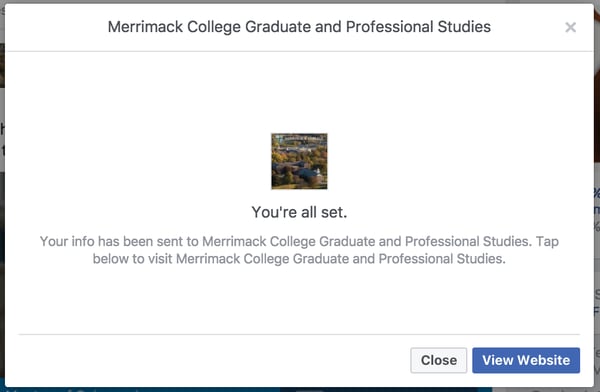 2. Optimizely
Optimizely has a timely Lead Ad that appears in the News Feed. To interact with it, users can simply click on the ad or hit the Download button.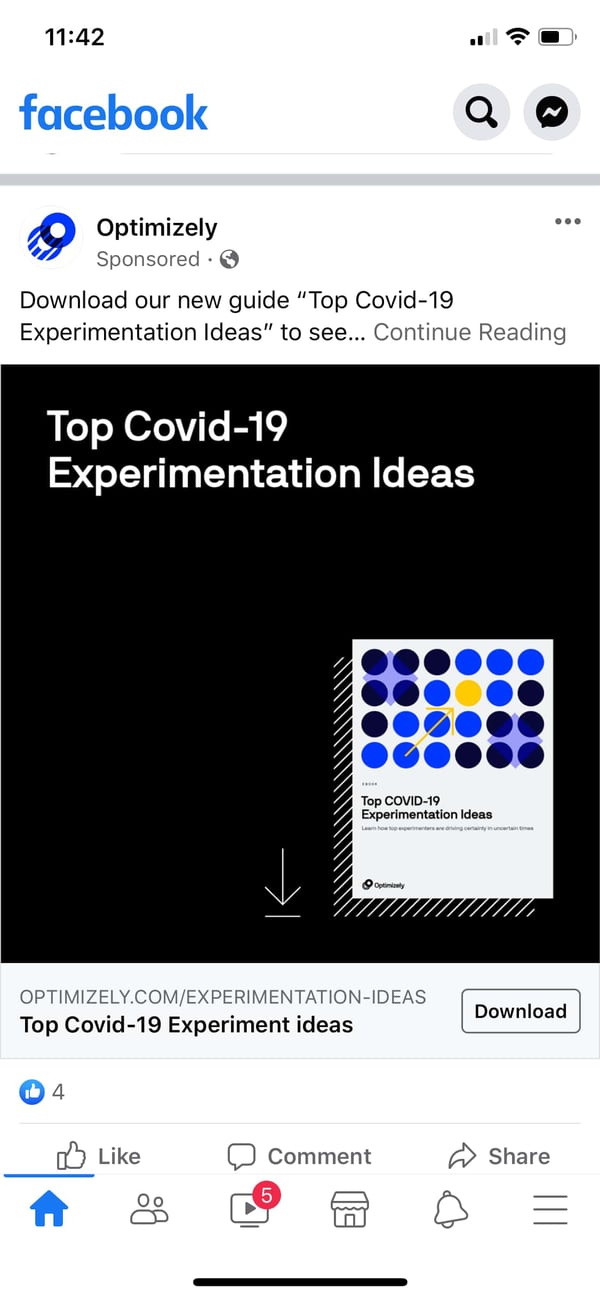 From here, users are asked to share a few contact details and then Optimizely provides them with the free ebook.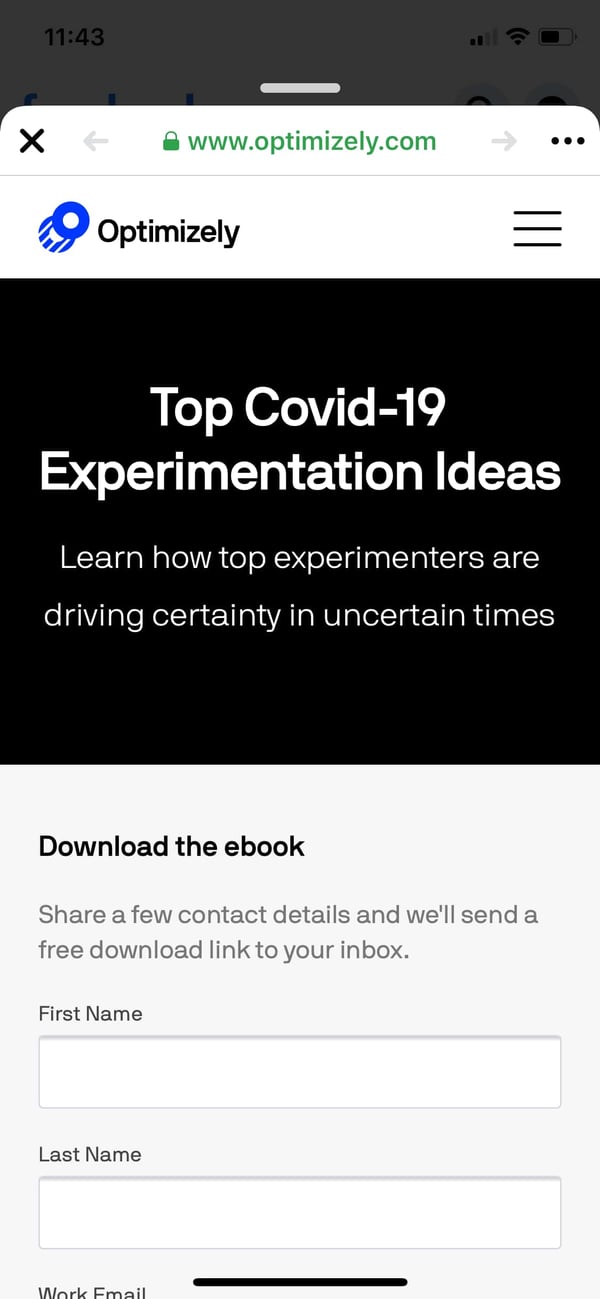 Users must scroll down to view all six form fields and complete each of the easy-to-answer questions.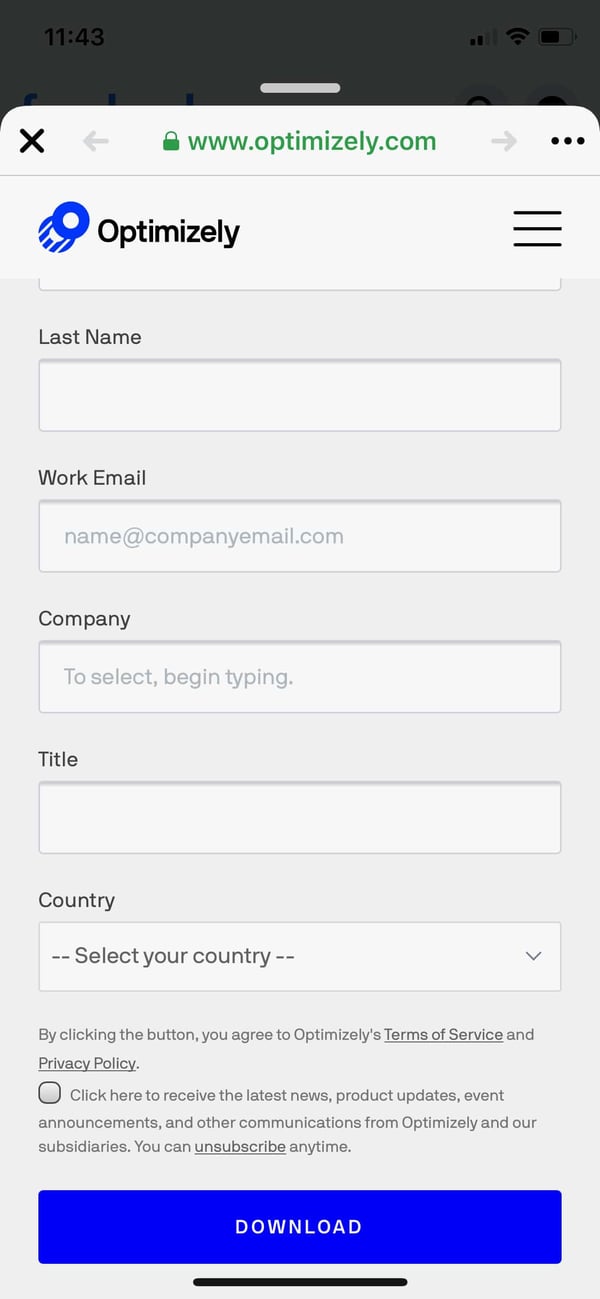 Within seconds, users have their free ebook download and can exit out of the Lead Ad to go back to their Feed with the click of a button.
3. Segment
Segment's Lead Ad appears for users scrolling through their News Feeds. The ad clearly states users are able to obtain a free copy of their guide on customer retention.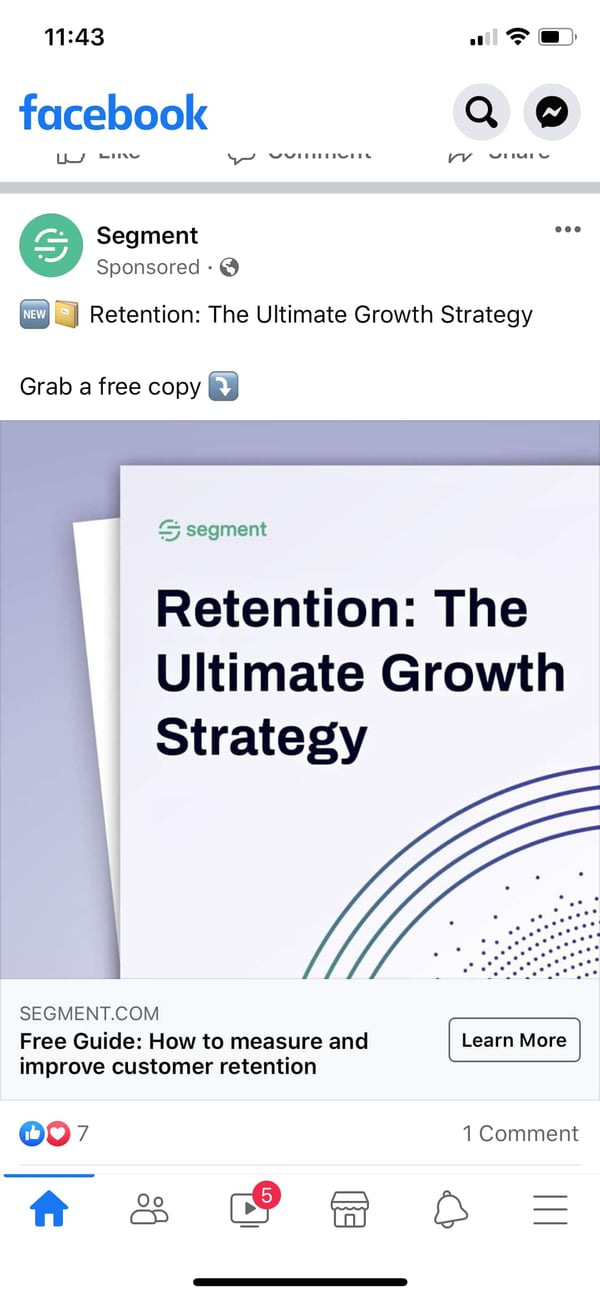 All a lead has to do is submit their email address and click the CTA — seconds later, they have their new guide.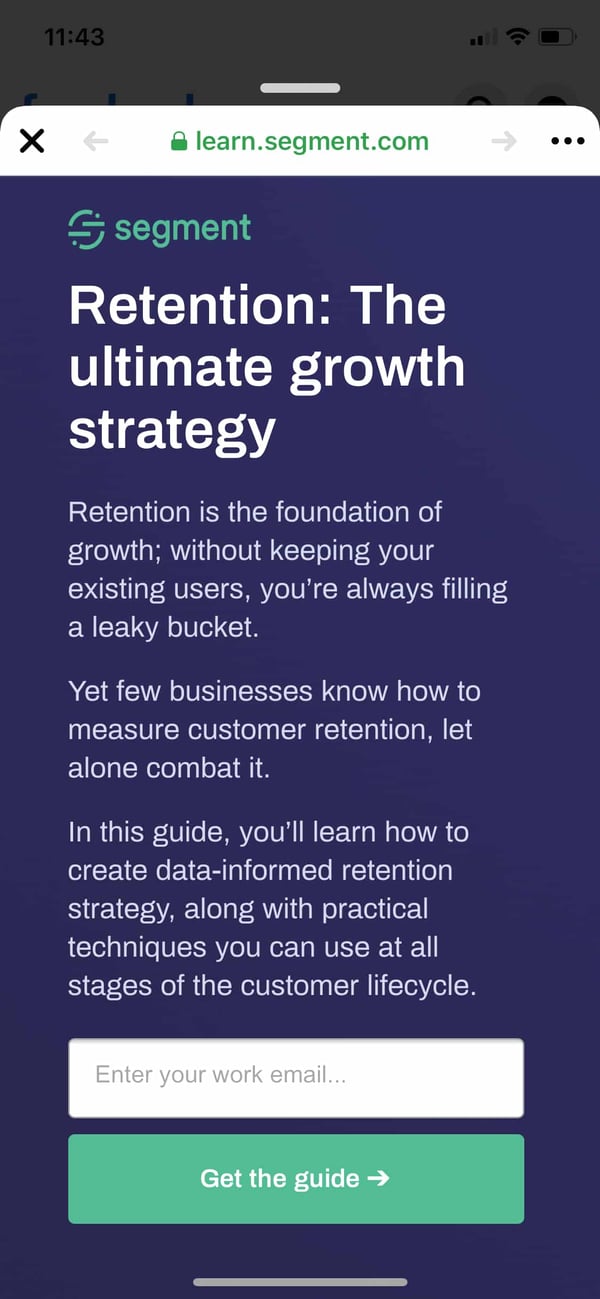 Users can then quickly exit out of their current view to head back to the exact location in which they left off in the News Feed.
4. General Assembly
General Assembly's Lead Ad offers users a free online workshop related to UX with an industry expert.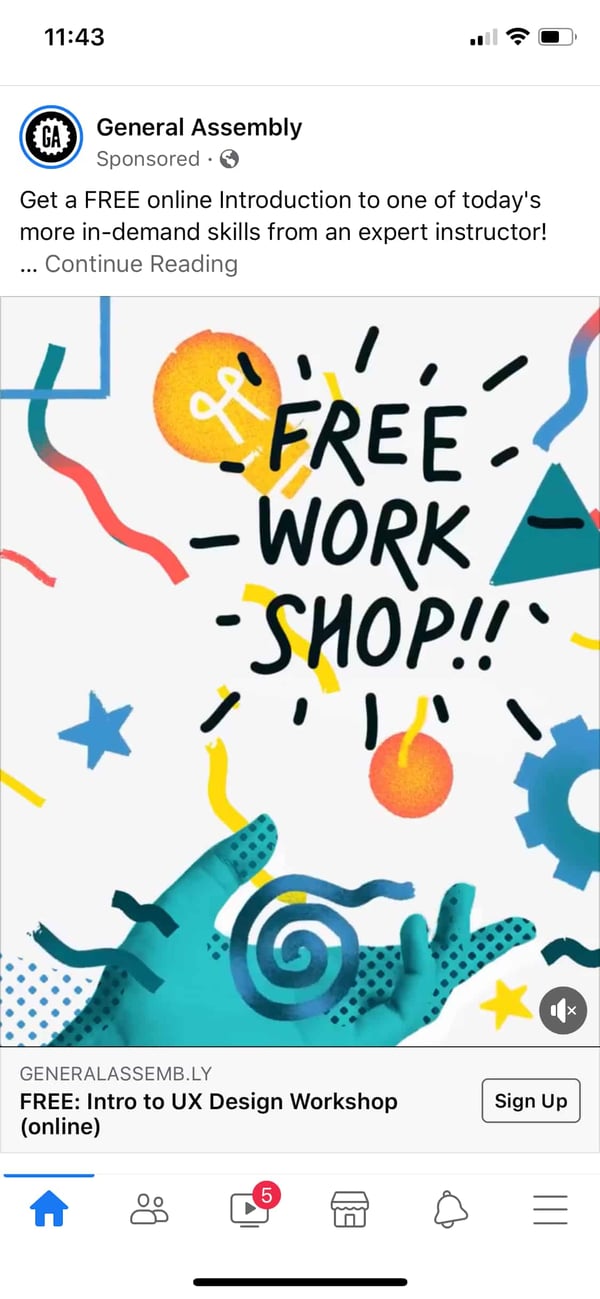 Once leads click on the ad, they're taken to a tab that shows their ticket to the free course and asked to simply enter their email.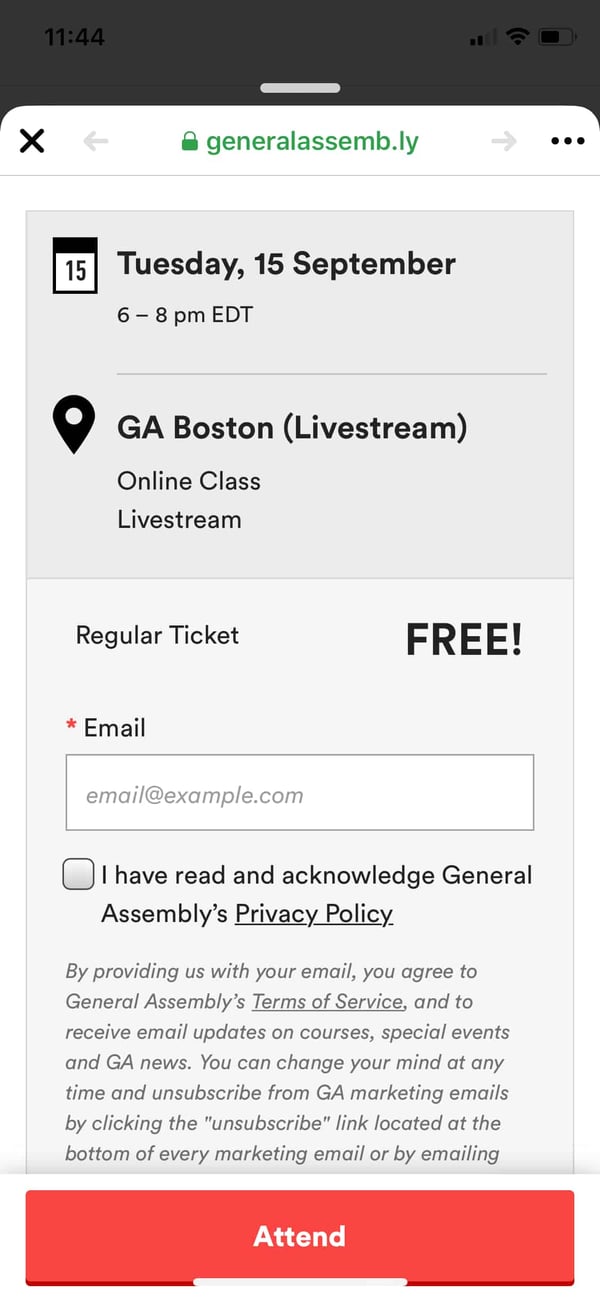 Once users click Attend, they are brought to a confirmation page in which they can exit out of, and return to the News Feed.
We've covered how to obtain leads through Facebook Lead Ads, but what do you do with the information you received? Do you immediately initiate a follow-up call? Download a .csv file and analyze your data? So many options!
The short answer — deliver what was promised, then nurture your leads.
You can think of it as a courtship where you delight your lead into a closed sale. That is, you follow up with relevant information, ask for feedback, answer their questions and engage them until they decide that you're the best option to solve their problem.
This is all part of your marketing flywheel, where the more value you provide, the more trust you develop with your new lead, and the more likely they are willing to buy from you and recommend you to others.
But how?
You need a place to store your new leads and a system that makes it easy to follow up with them. While it would be great to email each new lead individually, that becomes a problem with a successful Lead Ads campaign where you generate hundreds or even thousands of leads.
CRMs, like HubSpot, allow you to store, track, monitor, and keep up with leads so you can nurture them effectively. Many CRMs allow you to connect directly to Facebook Leads Ads so that every time you obtain a lead from your campaign, it's sent directly to your CRM. This option frees up your time for optimizing your campaigns and delivering value to your new leads.
Try our free CRM to manage, track, and engage your new Facebook leads.
Once you've synced your new contacts to your CRM, your marketing and sales team will be able to appropriately nurture and follow-up with them based on the ad offer that they signed up for.
Facebook Lead Ads isn't as mysterious as you may have thought. With a clear buyer persona, a specific targeting strategy, and a reputable CRM, you should be able to obtain all the leads you need to reach your potential customers and grow your business.
Editor's note: This post was originally published in February, 2017 and has been updated for comprehensiveness.