Challenges
Lacking an All-in-One Platform to Automate Processes, Cut Down on Admin Work, and Provide Better Customer Support
Think of Accommodation.co.uk as not your regular rentals (letting) team: Apart from qualified agents and property management teams, the company has an in-house marketing team, a design team, a business development team, an accountancy team, and even an engineering team in place. When it comes to a market-leading rental experience, this company doesn't mess around.
But as Co-Founder and Operations Director Matthew Meekins points out, in the lettings industry, there's a huge amount of admin work — from scheduling appointments to solving maintenance issues, creating inspection reports, organizing property certifications, and managing client databases. All of this detracts from important activities like interacting with customers.
"Admin work was drawing our agents' attention away from providing a market-leading customer support solution — the kind of care you need when you're doing something as important as buying or renting your next home," says Matthew.
He realized he had to remove the strain from his teams while boosting transparency, which is significant in the lettings industry.
With that, Matthew, along with a couple of university friends, launched Accommodation.co.uk. They set out to change the industry by leveraging technology to automate the admin work, allowing time to focus on business growth and customer service.
The initial system, which comprised a series of disparate tools, was a good start, but they soon realized that managing bespoke, robust systems required a lot of work. "We used WordPress to create a basic website to advertise properties and tackle the letting processes. We wanted to build this in-house, but it became too time-intensive and stopped being a smooth process," says Matthew.
By going through this difficult process, the team learned a huge amount about what they needed from a CRM platform and what tools were important. "I'm thankful for the journey because we realized there are tools out there that can help," he recalls.
With HubSpot, the Operations Director was sold from the start. "When HubSpot was first shown to me, I was blown away. The
HubSpot Academy
got me hooked on learning about inbound marketing and sales. That's where the passion for HubSpot came about, motivating us to start using it," adds Matthew.
It didn't take Accommodation.co.uk long to embrace the technology and implement the HubSpot CRM platform to compliment their business and growth aspirations.
Marketing Hub
Helps Accommodation.co.uk attract the right audience, convert more visitors into customers, and run complete inbound marketing campaigns at scale.
Sales Hub
Helps Accommodation.co.uk book more valuations, deepen relationships with their audience, and manage their pipeline more effectively.
Service Hub
Helps Accommodation.co.uk raise their property management game and scale customer support.
Solution
3-in-1 Marketing, Sales and, Service Software, in a Centralized CRM Platform
With so many processes that need managing in the letting sector, Accommodation.co.uk needed a tool that could handle every aspect from property maintenance to communication and even compliance issues. A tool that is easy to use and flexible enough to manage two audiences: landlords and tenants and meet their needs at every stage of growth.
For someone like Matthew, who was ambitious and diligent enough to develop his own CRM tool, it had to be first-rate. "We have used other CRM systems before, but they were either too limited or not agile enough. With the HubSpot platform, if you have the right team in place, you can 'conquer the world' thanks to its amazing, ever-growing features."
Powering the Business With a CRM Platform
All three hubs are powered by a CRM that gives their business one unified view of every customer interaction.
According to Matthew, "We are using the HubSpot CRM Platform as the source of truth for its business. From KPI reporting to viewing how team members are getting on with tasks, it makes a big difference having all our data in one place."
By automating processes using
HubSpot's workflows tool
, Accommodation.co.uk creates an unrivalled customer experience. "We have over 150 email and SMS communications that send within 12 different pipelines. Landlords love the transparency and how we're always communicating with them and keeping them up to date. For many, it's something they haven't experienced before."
Thanks to the HubSpot platform and the automation behind the maintenance pipeline, solving emergency issues takes property managers less time, making them more productive.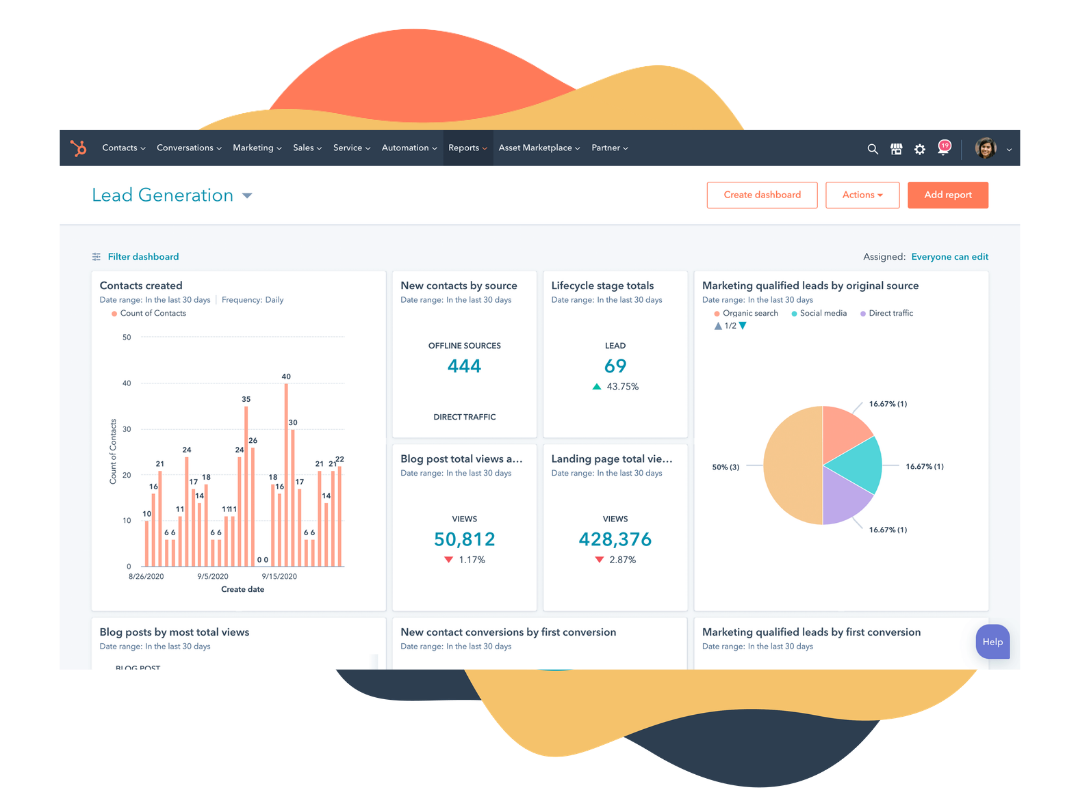 Enabling More with Integrations
Thanks to the HubSpot platform and the automation behind the maintenance pipeline, solving emergency issues takes property managers less time, making them more productive. The integrations available in HubSpot Ecosystem, such as the
Slack HubSpot Integration
, allow Accommodation.co.uk to build seamless and straightforward processes, helping its teams:
Save time by sending maintenance issue notifications to both contractors and the property management board.

Be more efficient because the repair process is streamlined.
The PandaDoc Integration also provides value. In 2020, signing in-house is impractical and outdated. Plus, during COVID times, it doesn't work. "The integration with PandaDoc has two benefits: It helps our in-house team spend less time because it pre-fills all the information and it's so easy for tenants and landlords to sign thanks to eSignatures."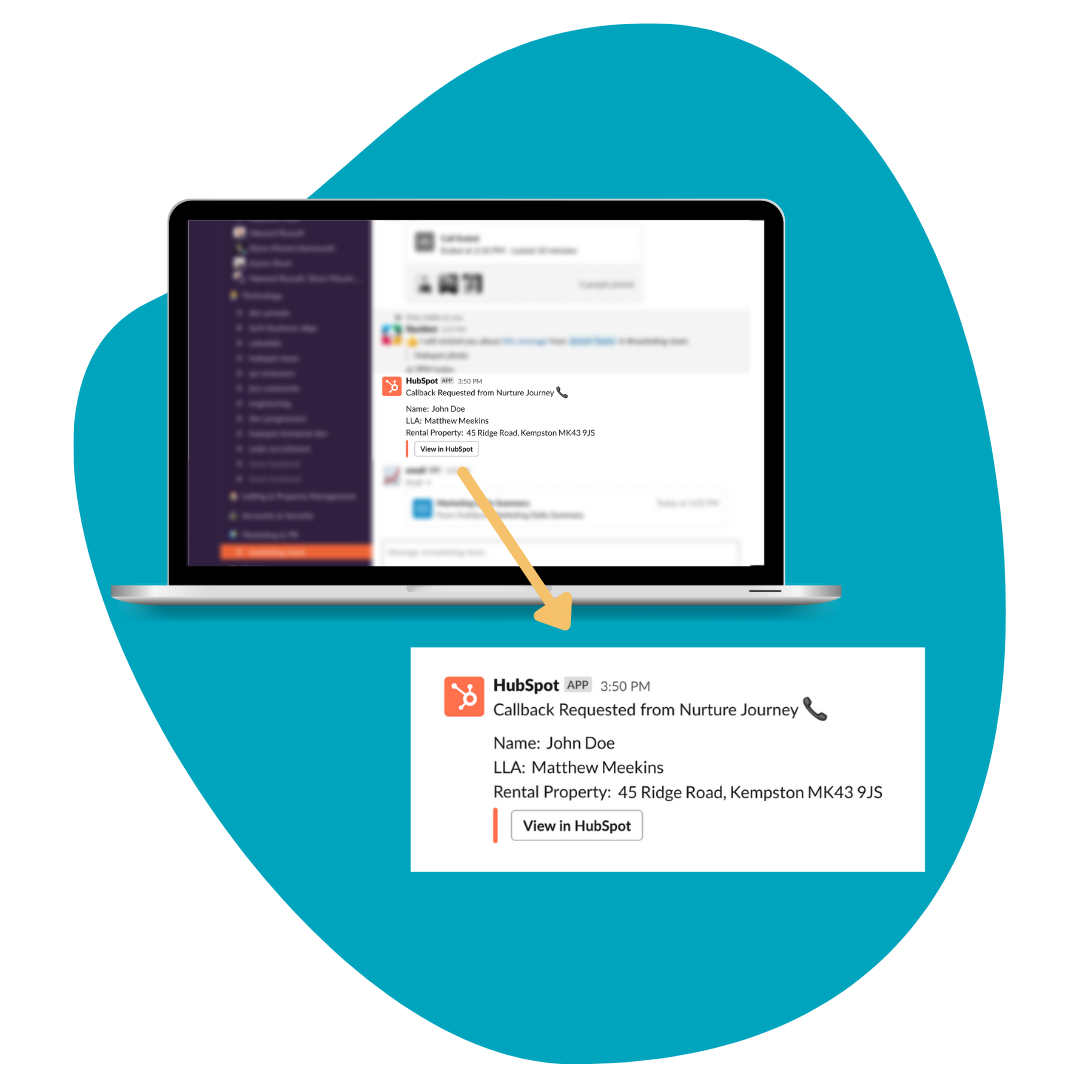 Leveraging the HubSpot API
The tools inside the HubSpot platform helped the company build the 'Wizard Upload Form', which saves agents up to 20 mins per uploaded property. Thanks to this simple solution, they can easily upload new listings by pulling through property information via the API and then publish it directly to Rightmove and Zoopla.
The HubSpot platform is powerful enough to support every aspect of their business processes and flexible enough to manage the company's growth plans. It sits at the core of its 700+ workflows, making Accommodation.co.uk's teams more agile than ever.
The company uses customized tools in Marketing Hub to segment its audience, build its pipelines, market its services, and connect with the right customers.
Thanks to the undefeatable processes Accommodation.co.uk built within the HubSpot platform, the company has been retaining customers and attracting new ones, offering tenants, and landlords more value than competitors. "We provide tenants with the ability to report repairs and give notice, while landlords can see reports about their viewings, applications, and other stages of the lettings process. It's something that makes us stand out from our competitors, and our clients love the transparency it offers," says Matthew.
Results
Scaling Fast with HubSpot
Thanks to HubSpot Growth Platform, Accommodation.co.uk is more agile and can easily identify gaps in the market, allowing them to offer a more comprehensive service than many competitors.
When a large hospitality company was looking for a solution to keep their business running during COVID, its teams could adapt to the client's specific needs. "Thanks to the HubSpot platform, we can adapt to our clients' needs and help solve whatever issue they're having, faster than our competitors," says Matthew.
The HubSpot Sales Hub has been helping Accommodation.co.uk gain more valuation bookings and leads, supporting its growth. Matthew says, "When we first started using the HubSpot platform, we were getting around 35 landlord leads on the valuation pipeline a month. Now, we get over 1,200 landlord leads a month. The numbers speak for themselves." Plus, the company gets around 2,100+ viewing inquiries a month from Rightmove and Zoopla through Webhooks.
By using the HubSpot platform, Accommodation.co.uk has:
Automated 92% of the lettings process, which is 13% more than the next best product on the market.
Saved 15 to 20 minutes per property upload thanks to their 'Wizard Upload Form.'
Boosted landlord valuation conversion from 5.6% to 8.6%.
Increased tenant inquiries from 18% to 53%, converting them to viewings.
Reduced errors (bugs) by 97%, compared to 2019's figures.
Released 86% more features and enhancements in 2020, compared to 2019.
Working with HubSpot Growth Platform has paid off: with less admin on their to-do lists, agents can focus on meeting customers' growing demands and nurturing relationships. Accommodation.co.uk's 100% '5 Star' Trustpilot reviews with a +59 Net Promoter Score (NPS) shows how the automated solution works for its customers.
Since using the HubSpot platform all-in-one solution for marketing, sales, CRM, and customer service, Accommodation.co.uk's letting teams have been working faster, more effectively, and smarter, allowing them to continue growing. As Matthew adds, "Our backlog of features and future developments is huge for our growth plans. The future for HubSpot and us looks amazing."