The most important benefit of knowledge management systems is that best practices are available to customers, which creates happy and successful customers. Happy and successful customers keep coming back to buy more (and more often) than other customers, and they tell their friends, thus becoming enthusiastic brand advocates. Make no mistake, there is true business value in knowledge management systems.
We know that customer success feeds business success. Organizations that prioritize customer success are more likely to have growing revenues: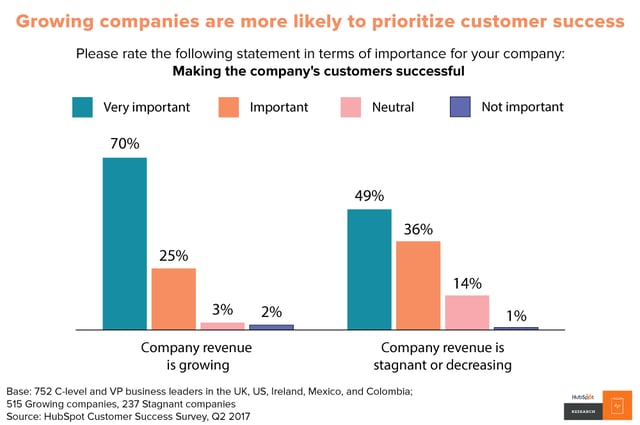 And when you're able to provide a self-serve customer service portal (i.e. a knowledge management system), you're able to scale customer support without increasing support costs.
It's relatively expensive to have a customer support rep interact with a customer for each and every issue. According to Forrester, a chat with a live customer support agent can cost $6-12 per interaction, but an automated interaction can cost as little as 25 cents.
Creating a useful knowledge management system can free up the time of your support staff while providing a similar or an even greater level of customer satisfaction.
Knowledge management systems can also help convert consumers. Did you know that, when consumers have a need for a new product, tool, or service, 32% of them look to product guides, educational content, and best practices? Your knowledge management system might make the difference between an inquisitive shopper and a decisive customer.
The advantages of knowledge management systems far outweigh any disadvantages in terms of time or costs — as long as you do it right. Though you may think knowledge management systems are only necessary with complex products that require a lot of training, they can also be useful for "simple" products and services, too.
We might assume that a typical ecommerce site is quite simple, but people still visit the FAQ page and have questions. It still helps to compile knowledge to help customers with their questions.
1. Source the information and data for your knowledge management system.
The first step in developing a knowledge management system is knowing what knowledge to document.
What are the common problems, issues, and questions people have, and how can you document the answers to them? Here are a handful of methods to determine these factors.
1) Sift through your support ticket system. What are the most common questions people are asking? Is there anything in particular that continues to be asked over and over? These are the questions you should try to answer first.
2) Talk with your team about what issues come up frequently. Get your support team together and have them contribute ideas for knowledge management system articles to proactively answer questions that they get all the time. Since these probably affect your support workers (it is super frustrating to get repetitive issues), these things should be prioritized immediately.
3) Use Google Analytics to find what people are commonly searching for on your site. As long as you have enabled the site search feature in Google Analytics, you can simply go to Behavior > Site Search > Search Terms to see the common terms people are searching for. Pro tip: You can compare time periods and sort by "absolute change" to see rising trends over time.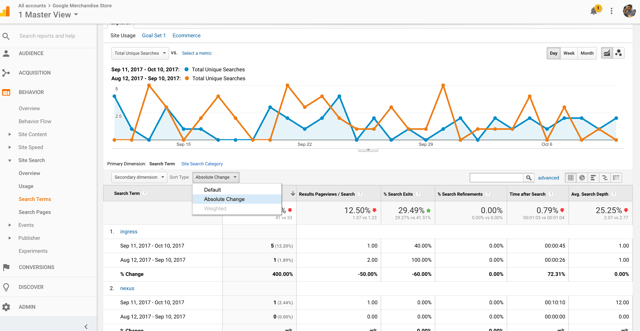 4) Use social listening and social tools to discover what customers are saying about your company. 89% of customer service professionals agree that customers are more likely than ever to share about their experiences with brands — likely on social media, where over 30% of people have gone to post about negative experiences. Simply put: people are talking about your company and products online, and you should know what they're saying. Moreover, you can probably minimize this chatter by proactively answering their questions and addressing their issues in your knowledge management system.
There are many moving pieces when it comes to the overall customer experience. Specific roles each tend to hold a piece of knowledge concerning the whole experience. For instance, feedback from salespeople that may be distinct from user experience researchers, customer support specialists, and marketers.
When it comes to building a knowledge management system, all of these viewpoints become important. Each one will shed some insight on problems or issues your customers are dealing with.
It may also help to gather some additional qualitative insights to find issues that may be in your blind spot. To do that, you can conduct on-site or in-app surveys to see what people are struggling with. Use a tool like Usabilla or Hotjar, as shown below: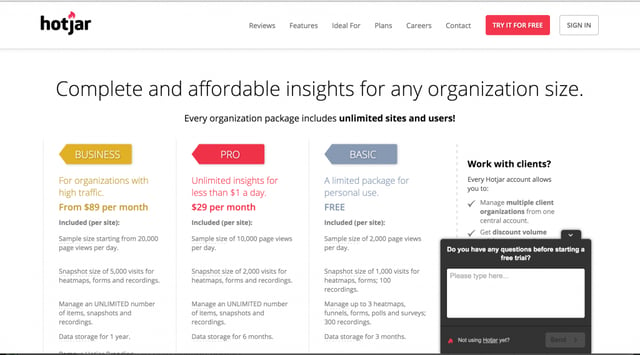 2. Organize your knowledge management system.
Next, how do you organize your knowledge management system? Here are some best practices for you to use when in designing and organizing your knowledge management system:
Chunk articles into a set amount of topic categories (try to stay within 4-6 categories).
Distinguish the most frequently-used elements on the homepage (e.g. the most popular articles and the search bar).
Include frequent links within article content to other helpful and related links, videos, and trainings. (Internal linking can help your site's SEO, too.)
Include a sidebar that links out to supplementary resources like chat, community, and courses.
Include a feedback mechanism so you can measure the response to articles.
Use a variety of media — videos, images, text, etc. Remember, people learn differently.
The structure of your knowledge management system will vary, but it should reflect your customers' expectations to create a great customer experience.
Your knowledge management system could contain multiple different features, such as a frequently-asked questions (FAQ) feature, a user forum, instructional videos, and more. You can even develop advanced customer education training like Optimizely or Google Analytics does.

What you choose to include depends on what you believe will help your users achieve their goals.
A good way to determine this is to look to other companies knowledge management systems as inspiration (which is why we listed some brilliant knowledge management system examples above).
Ideally, you'd hire an information architect to model your knowledge management system after the real path a user would use to find solutions to their problems. This requires lots of user experience research and iteration.
However, if you don't have the time or resources to hire this type of expert, these steps work just as well.
3. Analyze and optimize your knowledge management system.
Managing an information or knowledge management system is a different story. You need to track metrics that aren't intuitive. Moreover, the process isn't the same as measuring a landing page where you can use metrics like leads generated or conversion rate.
How do you know if a knowledge article was successful? It's not a straightforward answer, really. You should have a discussion in your organization about what your goals are and how you can meaningfully track them. I've seen systems based on satisfaction surveys (like Usabilla's), and I've also talked to companies who use metrics like bounce rate or time on page as success metrics.
Some do "un-conversion-rate-optimization" to optimize their support pages to make fewer people reach out to support.
But even things like bounce rate or time on page can be misleading — perhaps time on page means they were engaged, but it could also mean that the article was confusing and they were reading and rereading it without getting the message (which is frustrating).
The best way is to simply use a binary feedback form at the end of each article. Ask: "Was this page successful? Yes or No:"

While any data on an individual page with this binary question may not help much (what does it mean when 70% of people think it was helpful - is that good?), it helps when you can determine a baseline and see which articles aren't very helpful. You can then set out to optimize those articles with better information.
See how HubSpot's Service Hub can help you use Customer Feedback to turn customers into promoters.
4. Continually update your knowledge management system.
Operating a knowledge management system not only requires you to keep a close eye on metrics, but also in support trends and issues that pop up. Just because you've created the system doesn't mean you're finished. Continue to keep a close eye on what questions your support team continually fields, things that customers are searching for on your site, and bottlenecks within the product or website itself.
One simple way to solve this: Add a feedback form where people can ask questions they couldn't find on the site.
Continue investing in self-serve service and proactive support measures, and you'll be rewarded with happier customers, increased revenues, and decreased support costs. It's a challenging endeavor, but it offers a huge return on investment.