Sending a tracked email is simple. We're going to review how to track an email using our product, SalesHub, which involves four easy steps.
1. Establish company guidelines on email tracking practices.
Technology like email tracking can be used to improve the customer experience, but it must be used responsibly. Set some guardrails with your team about how and when to reach out to a recipient after you have received a read-notification.
It's also a good idea to define proper use of email tracking tools in your company's privacy policy and disclose when people sign up for email subscriptions that email tracking notifications are in use. These conversations and standards should be established before you start using email tracking and re-examined continually to ensure you're creating a good customer experience.
2. Install an email tracking app.
There are a few different email tracking tools on the market today. In SalesHub, you'll get live notifications when someone opens or clicks your emails. You'll also get real-time updates on when and how many times a contact opens your email.
Oh, and it's free.
Click here to install the free SalesHub extension and start tracking your emails today.
3. Compose an email.
Start typing away.
Sometimes that's easier said than done ... which is why we created a contact profile feature (in the example below) within our email tracking tool so you can see information about who you're emailing, such as company information, open deals, and a timeline of communication. This provides valuable context that can help kickstart your messages and make them more meaningful. You can also open the contact profile in the HubSpot CRM for a full view.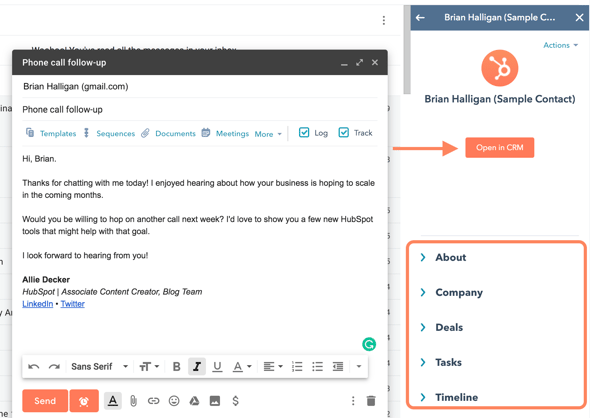 4. Check the "Track" box.
At this stage, every email tracking tool works a little differently. With SalesHub, tracked emails are signified by a checkbox that will appear in your Gmail or Outlook toolbar once you download the tool. Most tools will reflect a similar checkbox or indicator that allows you to choose which emails to track. Make sure that a recipient has opted-in to getting emails from your company before you email them or use email tracking.

That's it! With four quick steps, you receive the power of knowing what happens after you send an email.
And since we're already talking about easy-to-use email tracking software, let's review some free options next to give you an idea about the various options you may want to experiment with.
Add email tracking to your inbox.
Learn when people open your emails and craft the perfectly timed response. Try our free email tracking tool and take the guesswork out of email follow up.