Playing with the Big Boys
As the new kid on the web conferencing block, Lucid Meetings has faced an uphill battle since launching in 2010. The company bravely entered a market with a superior product but a mere fraction of the resources of its deep-pocketed competitors.
To compete, the firm relied on a number of low-cost software services to create content, promote its brand, and monitor progress. However, business growth was slower than expected and since none of their software stack was integrated, it was tough to understand why.
"Using a bunch of separate software made it easy to see what was happening in each channel—email marketing, social media, and site traffic—but impossible to get an overall view of our business," says Elise Keith, Lucid Meetings' Founder and Product Manager. "Since our goal was to increase traffic to our site and exposure to our product, we needed to completely rethink our approach to marketing."
Setting Marketing Straight
Without a dedicated marketing expert and a small team, Elise knew that finding the right tools could help put Lucid Meetings' marketing back on track. She evaluated all the major marketing solutions in the market, such as Marketo, but found most platforms tend to nurture the leads that they already had, not generate new ones.

She read a number of helpful HubSpot-authored articles about marketing process improvement and audience building, compelling her to adopt HubSpot software to build a systematic approach to attracting, converting, and nurturing leads through the sales process.
"We were drawn to how HubSpot integrates multiple tools, and the built-in best practices for search engine optimization, content creation, marketing automation, campaigns, and contact management drew many parallels to our own software" Elise says. "It allows our small team to share marketing responsibilities within a common environment and see the results of our efforts clearly and immediately."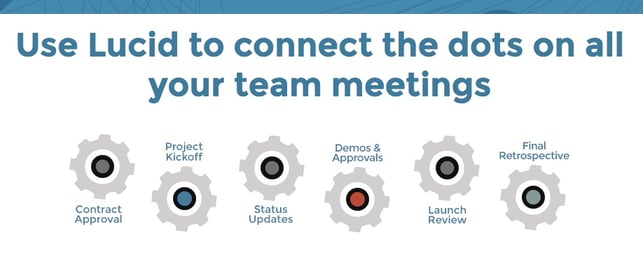 With HubSpot's best practices and expert guidance, the entire Lucid team is pulling in the same direction using a clearly defined roadmap for creating and distributing the right content for the right audiences, delivered at the right time and place.
At any time, members of the team use apps like HubSpot SEO, Social Inbox, and Blogging to gather actionable intelligence about what customers are searching for on the web. From there, they can create targeted blogs, offers, and e-books such as 7 Keys to Successful Client Meetings Online and use any of the various reporting features in HubSpot Analytics collect real-time insights about the effectiveness of their individual efforts and the firm's marketing activities as a whole.
Once a visitor decides to sign up for a free trial, custom workflows created with HubSpot Marketing Automation and Email deliver a series of educational emails highlighting the platform's most important features, capabilities, and benefits to encourage them to explore further.
"HubSpot gives us more autonomy and control over our marketing than we've ever had before," Elise says. "It is a night-and-day improvement over the way we used to work."
Leveling the Playing Field
Since deploying HubSpot, Lucid Meetings has dramatically improved its ability to compete with larger players in the market without having to add staff or significantly increase its marketing budget. The team works more cohesively now than in the past, given how easy the HubSpot apps are to use.
More importantly, the concerted efforts have had a real, measurable impact on the business. For example, in just six months after deploying HubSpot, the firm increased its organic website traffic by 763% and boosted downloads of its e-books by as much as 40%. In addition, the number of prospects that converted to trial users increased 226% as well, creating a surge of new business momentum.
"We thought we'd tried everything by using so many different tools in the past, but HubSpot has been a revelation," Elise says. "Between all the integrated features, the community, and the incredibly supportive staff, this relationship has been one of the smartest decisions we've ever made."