Before HubSpot, CommunicorpUK was using a restrictive, poorly accepted CRM system that wasn't effective. It made it difficult to implement sales processes and systems, and internal marketing was almost non-existent.

With HubSpot, CommunicorpUK now successfully reaches new potential customers at scale, brings their marketing and sales efforts together, and exceeds their sales goals.
Challenges
Looking For a System That Helps a Large Sales Team Hit Ambitious Goals
Before HubSpot, CommunicorpUK used Dynamics CRM. It was fully integrated, developed, and customized across all their systems ever since the business started. The problem with that setup? Sales reps showed poor user acceptance. The system felt restrictive and difficult to use, and the processes and systems that came with it were something reps thought they had to do rather than what they wanted to do.
Kevin Tierney, CRM and Campaign Management Director at CommunicorpUK, explains, "We knew that the system wasn't working for us anymore. We knew we could either tweak the existing system, start the same system from scratch, or change to a different platform altogether. User feedback steered us towards finding a new platform."
One of CommunicorpUK's enterprise businesses was already using HubSpot, which helped them understand how it would work for them. Other options CommunicorpUK evaluated included Salesforce, Zoho, and Dynamics CRM. They searched for a CRM that would help them connect sales and marketing, work for their large sales team, and provide hands-on support.
HubSpot ticked all the boxes. Kevin adds, "HubSpot's support was the turning point. The demonstrated willingness to help us achieve our objectives and the hunger to develop the product was demonstrated. We knew we could build a strong relationship with HubSpot and get all of our questions answered, which meant we could always make the best decisions for the business." CommunicorpUK signed up for Sales Hub Professional in September 2017, followed by Marketing Hub Enterprise soon after.
Solution
Fast Implementation and More Efficiency Than Ever Before
CommunicorpUK implemented HubSpot across ten radio stations to more than 80 salespeople within three months, including training. They relied on HubSpot's Knowledge Base to build their setup and used HubSpot's Onboarding Services for their more advanced needs like integrations and API. "The speed at which we implemented HubSpot was absolutely the testament to how easy to use HubSpot is. The support through calls and emails was absolutely there every step of the way to help us make it happen," says Kevin
Everything their sales team does now lives in HubSpot. If it doesn't, it didn't happen. Once a prospect is in the system, it's the foundation for everything that comes after. Kevin adds, "HubSpot is our home base for tracking email opens, recording call notes, and creating opportunities and deals. These actions also trigger company creation in our ERP system and the creation of contracts in Docusign. Our sales process lives in HubSpot, so if a prospect isn't in it, none of this can happen."
Salespeople take HubSpot with them, wherever they are.
Thanks to HubSpot, CommunicorpUK's sales reps have skyrocketed their efficiency. They're building their call queues a week in advance, which is how they're now logging more phone calls and meetings than ever.
"We have 50 outside salespeople that are always on the road that rely on the HubSpot Mobile CRM App. They can take their deals, tasks, and reminders with them. HubSpot also increased the visibility we have because we can back up and see all the relevant reports, as well as automate them for each rep and their performance," says Kevin.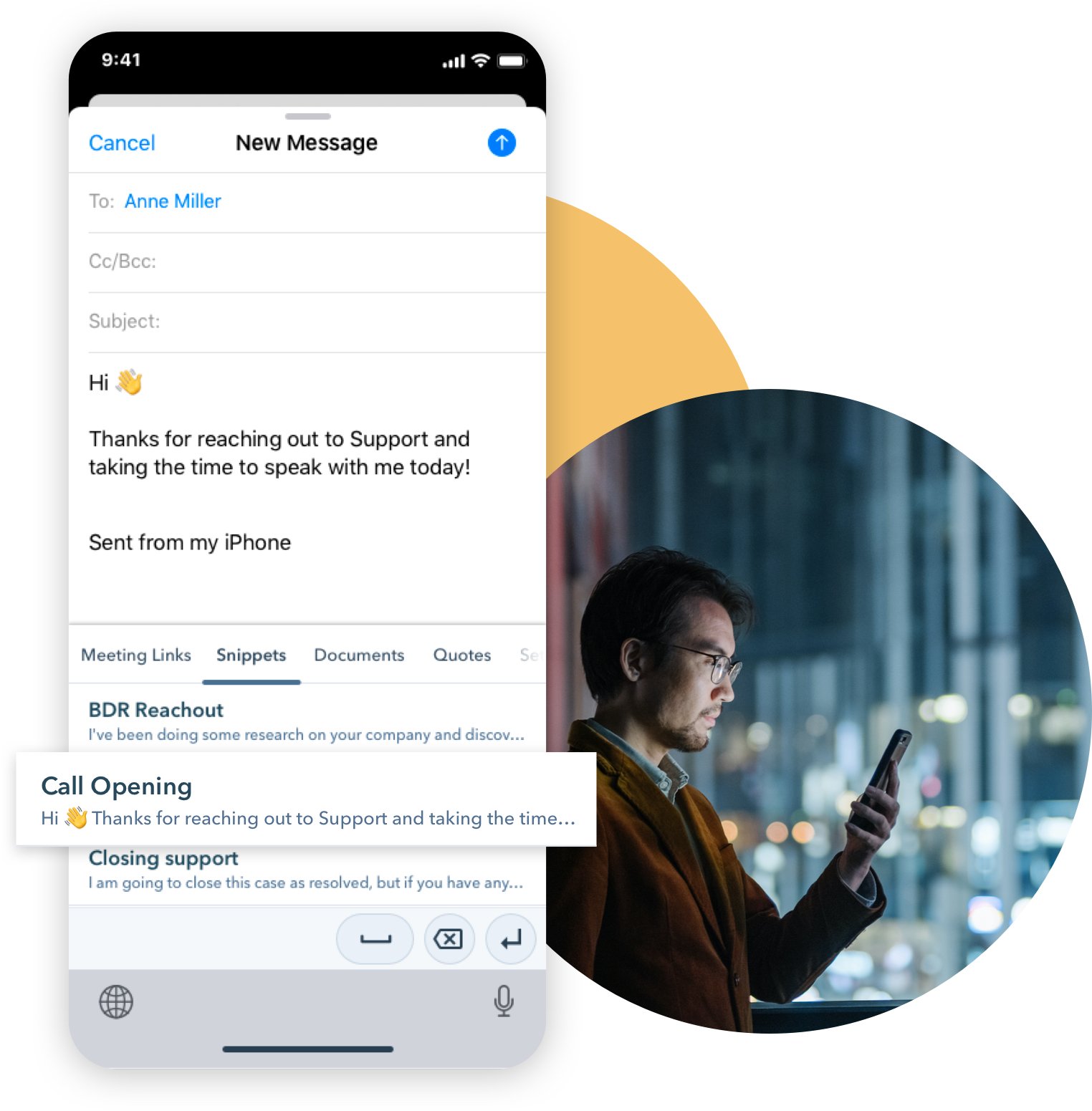 CommunicorpUK also runs a successful marketing operation with only four people on the marketing team. The way they're able to do it? An equally powerful and easy to use marketing software from HubSpot. They use workflows to automatically add a new lead from Google Ads to an email list, send follow up emails, and assign it to an account manager, all without manually doing anything. They also use HubSpot's blogging software and embed relevant CTAs throughout.
Creating a Content Machine
CommunicorpUK creates a wide range of relevant, engaging, conversion-optimized blog posts that help the company's discoverability in search and social media. On top of this, they leverage the drag and drop email tools in Marketing Hub to provide a more personalized experience for their audiences.
Blog Posts:
Landing Pages
Marketing Emails
The best thing about using HubSpot marketing software? You can see great results regardless of your technical expertise. Kevin explains, "We know we could do many other things if we had in-house knowledge on HTML and CSS, but HubSpot gives us results even without that. An easy-to-use drag and drop editor is more than enough to help us hit our goals."
Results
Exceptional Results With Hyperconnected Sales and Marketing Operations
CommunicorpUK's visibility into activities and results from sales and marketing has skyrocketed. Thanks to HubSpot, they've recorded more than 32,000 meetings and almost 58,000 calls, and they've tracked close to 200,000 emails.
Their marketing has become a huge driving force behind these results. They went from zero to over 140,000 emails sent using only HubSpot templates and in-house design and copywriting expertise. Their email open rate is consistently around 25%, and their click-through rate is increasing by around 13% year-on-year. Their Google Ads campaigns show a 2,000% return on investment.
CommunicorpUK's sales team now has complete insight into how marketing brings them business. They can see emails their prospects received and how they interacted with them. This gives sales reps the confidence to tailor their message to each prospect and follow up on their outreach.
The main, long-term goal for CommunicorpUK is to keep implementing different ways to drive traffic to their business. Kevin finishes by saying, "We've always relied on our on-the-road salespeople, and we always will. But our big goal is creating new platforms for new potential customers to find us.