Point solutions kept Online Computers from marketing right
"The system actually works the way you want and the way you expect it to work. The tools HubSpot offers are so powerful, and I really believe that every marketing team should be using these tools." – Carl Scalzo, CEO
Prior to using HubSpot, Online Computers used MailChimp for their email marketing, a tool for their CRM, WordPress for their CMS, and Office 365 for tasks and calendar appointments. You can imagine the struggle to make sure that the tools work together. For example, if a contact unsubscribed from one of their email marketing campaigns, someone had to log into their CRM, find the contact, and mark them as unsubscribed -- a point solution nightmare! The tools weren't built with usability in mind, which meant that employees would rather continue using their own processes instead of trying to learn a hard-to-use tool. This effectively made marketing projects seem more daunting than they really were, which prevented them from generating more leads in the first place.
Online Computers turned to HubSpot's Marketing Hub Starter for a solution to increase email open and click-through rates via better segmentation and personalization, improve lead generation and create a better customer experience via an all-in-one system. They also hired a full-time marketer, Kristen Kozlowski, to run marketing campaigns. Kristen had never used HubSpot before.
"I am just one person, but I'm able to do the work of an entire marketing team with no trouble at all! HubSpot is so user-friendly, and it makes everything so much more convenient with its automation tools. To be honest, I don't know how I've ever gotten by before HubSpot." – Kristen Kozlowski, Marketing Specialist
Using Marketing Hub Starter, Online Computers transformed the way it attracted, engaged, and delighted its customers
To attract customers, Kristen decided to focus on the highest performing channel for the business -- direct mail campaigns. With HubSpot's Marketing Hub Starter, Kristen quickly created forms which she could use to embed into her WordPress website so that lead submissions synced to the HubSpot CRM. At the same time, by incorporating HubSpot's Sales Hub Professional, the form submissions automatically assigned tasks to sales reps -- making sure no lead went unnoticed. They launched direct mailing campaigns at a faster rate and understood exactly where their contacts were in the buyer journey.
To engage customers, Online Computers created smarter email campaigns to nurture their leads in Marketing Hub Starter. Since the HubSpot CRM stores information on each contact, they knew each contact's information and when and where they were communicated with. They used lists in HubSpot to create segmentations of their users. For example, they could now run three different direct mail campaigns at the same time. Each direct marketing campaign would include a unique link, and a different form so that they could understand which campaign a contact was associated with. Online Computers built three separate lists for these contacts based submission information, sending highly relevant emails with ease. Before HubSpot, Online Computers would need to manage multiple tools in order to pull this off, but with Marketing Hub Starter, the process was easy and allowed for scaling multiple campaigns at once. Kristen analyzed the email open and click-through rates to determine who they should follow-up with. Having their analytics all within HubSpot made it easy to make better data-driven decisions.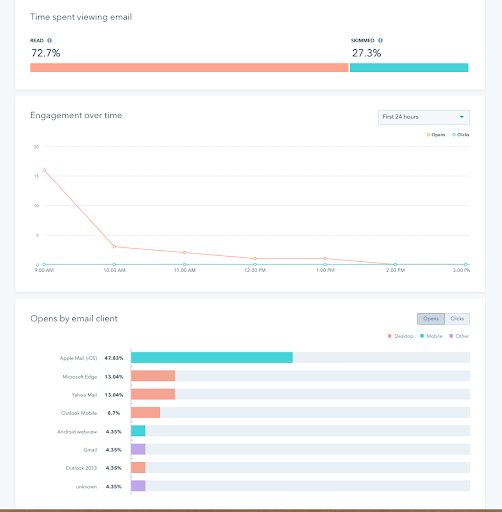 Email analytics within Marketing Hub Starter
To delight customers, Online Computers now knew of every touchpoint with their contacts so that sales and marketing actions were always aligned. One of the benefits of having a CRM for marketing and sales is alignment with those two teams. For example, sales reps saw when a contact opened a marketing email. The added context made the job of the sales rep easier since they knew who was more engaged with their services. Before having access to this information, they would panic if someone didn't respond to an email within a certain amount of time. Now, if they send out a big proposal, they don't have to worry if the contact will receive it since the information lives on the contact's record in the HubSpot CRM.
"I fully believe that I would not have made this sale without using HubSpot. The CRM is an absolute game changer! It really helps us save time and close more deals." – Evan Lang, Former Sales Manager
Since implementing HubSpot, Online Computers has become more productive and lean
Having HubSpot's Marketing Hub Starter paired with the Sales Hub allowed Online Computers to stay on top of all things marketing and have a process which has resulted in lean efficiencies for closing deals. For instance, they've been able to follow up with thousands of new prospects (just from one conference), with only one full-time marketing person, in less than an hour. Overall, It saves them time, which dramatically increases productivity and ROI. They also integrated their other tools like Office 365 into HubSpot so that they could manage calendar meetings and see 1-to-1 sales communication like emails, phone calls, and logged notes on the contact records. Since implementing HubSpot 6 months ago, Online Computers has grown 15% with a single marketing person. From implementing an inbound approach with Marketing Hub Starter, Online Computers has seen 167% growth in their deal pipeline due to them having warmer leads to close.
Looking ahead, Online Computers will complete our free training and certifications on HubSpot Academy. They'll also participate in HubSpot's in-person training to understand how to use the tools to the fullest potential.