Point solutions kept Online Computers from Marketing right
Rankmi was struggling to capture organic inbound leads to fuel business growth. Outbound activities such as going to HR events, cold calling, and cold emailing were the primary drivers of new leads, but the company needed other levers for growth as outbound lead generation was plateauing. Rankmi reached out to HubSpot Partner, IDS Agency, for help. In the average month, Rankmi was generating less than 700 visits and 15 leads from organic sources. Their goal was to use content strategy and HubSpot's SEO tool to increase the number of visitors to 38,000 for the year, which would generate an estimated 77 new customers. At the 9 month mark since implementing HubSpot's SEO tool, Rankmi attracted 12,626 visitors attributed to organic search in the month of November alone, accomplishing 33% of their annual goal in just 1 month.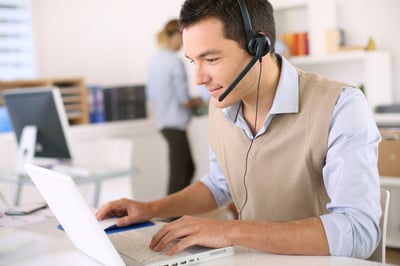 To perform an SEO overhaul, Rankmi started by understanding it's buyer persona -- a semi-fictional representation of its ideal customer based on market research and real data. For example, they asked questions such as, "what challenges face HR managers today regarding employee performance management?" Then, they were able to come up with proposed solutions to these challenges in their content strategy.
Keeping the buyer persona in mind
Using HubSpot's SEO Strategy Tool, Rankmi outlined specific topics that they wanted to be known for online, created pillar content around those topics, and used HubSpot's blogging tool to create supporting blog posts. HubSpot's SEO Strategy Tool helped Rankmi track the performance of each topic after the blog posts were live, ensuring that they continuously improved their pillar content strategy as they learned more about what their audience was interested in reading.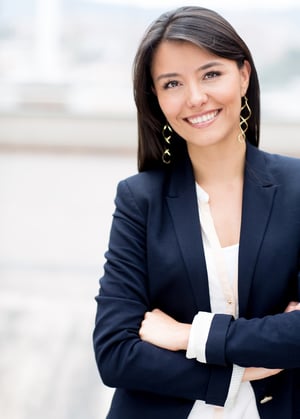 As an example, Rankmi created content around these broad pillar topics:
1) "Tendencias en Gestión del desempeño"
"Trends in Performance Management"
2)"Cómo crear objetivos SMART para la gestión del desempeño"
"How to create SMART objectives for performance management"
3) "Modelos de gestión del desempeño según industria"
"Industry Performance Management Models"
On each blog page, Rankmi included a CTA to the central Pillar Page. By creating backlinks to the core pillar page, Google recognized the page's authority and the pillar page started performing better in Google. Rankmi included a "Download" form on the pillar page to capture warm leads interested in learning more.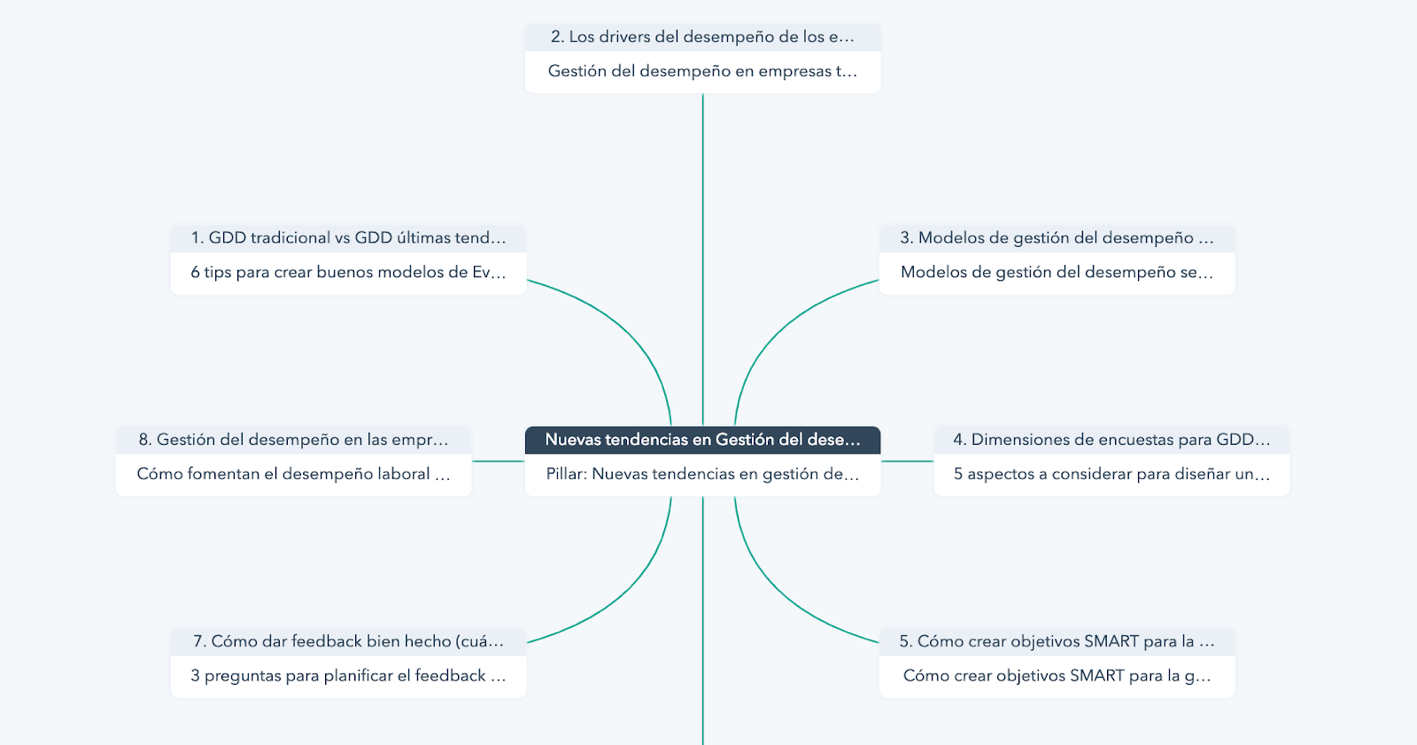 Rankmi's pillar content strategy in the SEO Tool
Once the contact filled out the form, Rankmi sent the pillar page's content offer to the contact and enrolled the contact in an automated lead nurturing workflow using HubSpot's automation tool. The workflows sent the contact relevant marketing emails and follow-ups to entice the contact to become a customer.

To capture a holistic performance breakdown, Rankmi tracked the performance of their pillar strategy by using the HubSpot Campaigns Tool, which showed how many new contacts were generated from the pillar content, how many contacts were influenced by the campaign, and how many contacts became customers. They used this holistic information to inform and improve their future campaigns.

"By using content of value to the persona, this positioned Rankmi as an industry thought leader, as the content is seen on social, in HR related groups, in talks, outbound events, and on google. This helped Rankmi close deals faster as the brand was already trusted prior to the sales meeting." -Ranya Barakat, IDS Agency.

Operating out of Latin America, there were several regional nuances Rankmi had to keep in mind. For example, keyword research isn't as clear in that area as it is in the U.S. To get around this, Rankmi optimized their content for their buyer personas, regardless of region or language. They focused on writing helpful and relevant content around their pillar topic. The HubSpot SEO Tool didn't just help Rankmi organize their content, but it also suggested topics to write about based on monthly search volume and relatedness. Additionally, Rankmi used Google's autocomplete search functionality to get a better understanding of what people were searching for.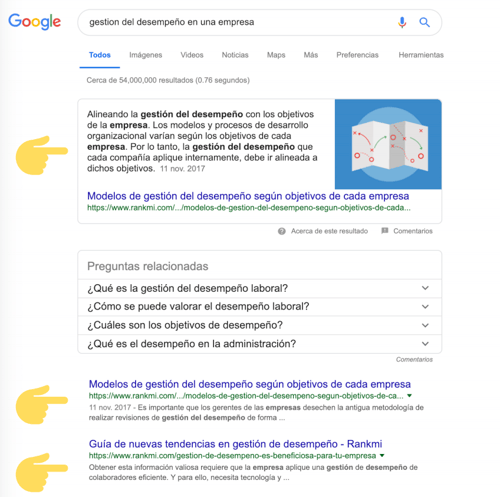 One of the results of Rankmi and IDS's SEO work was the generation of 21 featured snippets that link to Rankmi's pillar page content. This example above shows that Rankmi is not only included in Google's featured snippet for the keyword but they are also in the top 2 spots on Google's SERP.
With HubSpot, Rankmi tapped into explosive growth
In the course of 9 months, Rankmi saw an impressive amount of session growth and new leads being attributed to the SEO campaigns. Overall sessions grew 882% in 9 months. New leads grew by 645% at the same time, generating roughly 250 new leads in one month for the business. Not only did inbound SEO improvements contribute to Rankmi's marketing efforts, but it also paved an easier path for Rankmi Sale's team to close deals.

"We had been reading about content marketing for quite a while. We wanted to do it, but as a new startup, we were struggling to find a way to move forward. When we started learning about Hubspot it all clicked together, it allowed us to set up a deliberate effort, boost it with automation, and dramatically grow our traffic. We went from cold calls to taking calls in a few months, and we have Hubspot to thank for it." - Enrique Besa, CEO

Rankmi will continue using the SEO tool to improve content in the advent of Google's algorithm changes while also writing new content that's best suited for organic positioning.