On a Mission to become the iCloud of Storage
Founded in Gouda in the Netherlands, Inbox Storage began life as a typical self-storage provider. However, it soon realised that customers found transporting and retrieving their own belongings to be time consuming and inconvenient, so it decided to adapt its business model.
"We started by leasing a van and offering pickup and return services. That gained quite some traction with our customers, and we said to ourselves, this is something that we can scale up; we can become the iCloud of physical goods," explains Inbox Storage's founder and CEO Rik Snelleman.
Inbox Storage transitioned from being a local storage business to a full-service storage company with nationwide coverage. But competing on a national level brought attendant challenges, particularly when it came to marketing and sales.
"The software we were using, SpaceManager, is designed as operations software for companies operating individual storage units. That was sufficient in the past, but now we were facing a lot more competition. To outplay the large operators in marketing we had to think differently in order to capture and nurture more leads online."
The company began to investigate marketing automation platforms, and that search led it to the HubSpot software.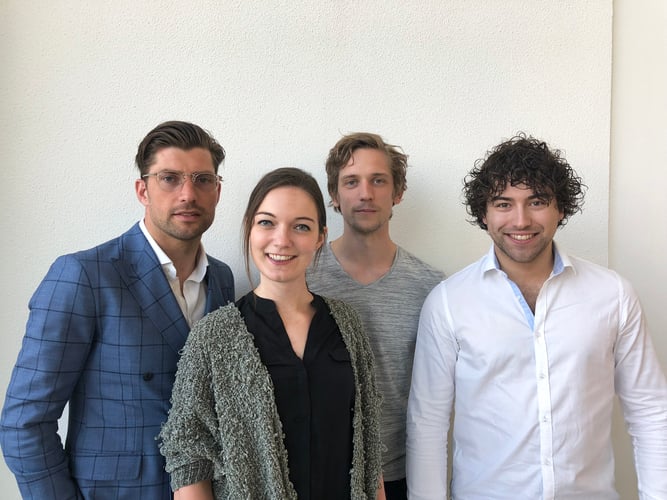 The Inbox Storage team from left to right: Rik Snelleman, Esmee Tijdeman, Tim Lommerse and Thomas Kools.
"We were on a mission to create a sustainable marketing foundation by creating content that got results, from the attraction phase right through to closed deals. The HubSpot platform had all the tools we needed to do it. We could see that it would allow us to produce cohesive campaigns and organically grow our position around the country. We signed up in 2016," says Tim Lommerse, an online marketer at Inbox Storage.
Going for Growth With HubSpot
Inbox Storage got started by creating its personas and then the content that would draw them in. Its blog is now filled with useful articles, and visitors are encouraged to engage through calls-to-action and forms.
"Thanks to HubSpot Marketing Hub, we are establishing ourselves as an industry expert. For example, we have a landing page where we offer an objective market comparison between us and our competitors. That helps build trust with our visitors, and we also ensure that their interest in us doesn't go to waste if they decide our services aren't for them. We know we're the best fit for 80% of the market, and we're not afraid to advise the other 20% to go to our competition if they better fit their needs. Once we capture their details, we can still help them with packing tips, materials," says Rik.
According to Tim, the company plans to make its content even more personalised, through the use of the Smart content tool in Marketing Hub.
"We're in the process of redesigning our website to make sure that every visitor gets the journey they need. We're segmenting our blog into two different sections – inspirational style posts and more practical posts on the best ways to pack, for instance. That will make it easier for us to guide visitors to other content on the website that is useful for them, content they are really interested in and ultimately drive them through the funnel."
Inbox Storage has a short sales cycle, with more than 70% of its sales qualified leads converting within five days. It uses the HubSpot CRM to get a bird's eye view of its busy pipeline and Sales Hub to ensure that each lead is nurtured in the right way. If, however, a lead takes significantly longer than five days they activate smart sequences that offer leads relevant content (blog recycled or links) in their specific buying phase. In this way, even leads that take months to convert always keep hearing from them in a relevant way.
"When a lead comes in, they are entered into workflows that match their storage needs. We don't do the hard sell; in fact, we encourage them to really think about how much stuff they want to store. Once they agree on a pickup date, we then approach them with further offers. Now that we've built up our contacts database, we're going to use Sales Hub even more. We are ramping up our use of templates and the feedback we receive will help us to nail down which ones work best for us," says Rik.
A Refined Strategy Brings Better Results
In the past nine months, Inbox Storage has doubled down on its use of the HubSpot growth stack.
"We knew that there was more we could be doing with it," says Rik. "We started out with very basic Workflows, for instance – a person would simply get an automatic reply if they sent us an email. We're exploiting its potential more effectively now and can really run experiments with it."
Today, the company has a full-time staff member dedicated to all things HubSpot, and she is continually discovering new ways that the company can leverage the software.
"We've seen a dramatic increase in organic traffic since then, and those visitors convert to leads at a rate of 7%. We're very impressed by that. Before we signed up with HubSpot, the rate was about 1.5%," says Rik.
Lead numbers have been boosted by 4X overall, and customer numbers are also on the rise.
"They grew by 45% last year and they've already grown by 35% this year. Nine months ago, we were getting 25 to 30 new clients a month; now we are averaging 100."
Looking ahead, Inbox Storage has big plans to expand its services beyond the Netherlands.
"We said a couple of years ago that we wanted to be the number three player in the Dutch market by 2020. Looking at Domain Authority we are there and we believe that numbers will follow suit. So we have to tweak the timeline and realign our goals with our ambitions. We're looking at moving into European metropolitan areas like London, Stockholm and a number of big cities in Germany. The HubSpot software is going to be a crucial part of that."