We grow better together.
Building an inclusive environment is a team effort. Our programs, employee-led resource groups, and events are open to all. Here are just a few we think you'll love.
Women@HubSpot implements initiatives and programming that empower women in tech and support women's professional development through trainings, workshops, networking events, discussions with female leaders, and more. Our favorite day of the year? International Women's Day.
Proud that HubSpot CEO Yamini Rangan was named the #1 Best CEO for Women by Comparably in 2022. Learn more about this recognition
POCaH's (People of Color at HubSpot) mission is to create a culture that empowers employees of color by creating safe spaces, providing resources for career development, and offering educational opportunities to the HubSpot community. The programs POCaH runs, like Black Excellence events, mentorship programs, and field trips to local museums, help us all learn and grow together.
BLACKHub stands for Black Leaders Amplifying Change and Knowledge. And our community of Black employees does just that. We create safe space for honest conversations about the Black experience, and partner across the company to put ideas into action. BLACKHub's initiatives focus on career growth, recruiting, and community-building.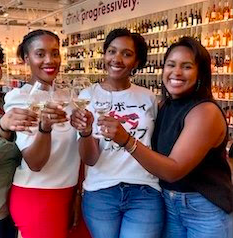 Pride isn't just one month or one parade at HubSpot, it's something we celebrate year round. The LGBTQ+ Alliance is a global committee of employees who are passionate about creating inclusive spaces for employees and people in our community who identify as lesbian, gay, bisexual, trans, and queer. Check out the Pride webpage to learn more.
We want to create a remarkable experience for parents (and soon to be parents) at HubSpot. This employee resource group is dedicated to just that by managing programs, perks, and a community for families. Families@HubSpot offers passes to zoos and children's museums, creates content and resources, organizes our favorite time of the year, Bring Your Kids to Work Day, and much more.
Voted "One of the 2021 Best Workplaces for Parents" by Great Place to Work®. Learn more about this recognition